https://www.bbc.co.uk/news/uk-50883161
Tesco has suspended production at a factory in China following allegations forced prison labour was used to pack charity Christmas cards.



It comes after the Sunday Times reported a six-year-old girl from south London found a message from Shanghai prisoners hidden in a box of cards.

"Please help us and notify human rights organisation," the message said.
According to the Sunday Times, Florence Widdicombe opened a £1.50 box of Tesco cards to find that one of them - featuring a kitten with a Santa hat - had already been written in.



In block capitals, it said: "We are

foreign prisoners

in Shanghai Qingpu prison China. Forced to work against our will. Please help us and notify human rights organisation."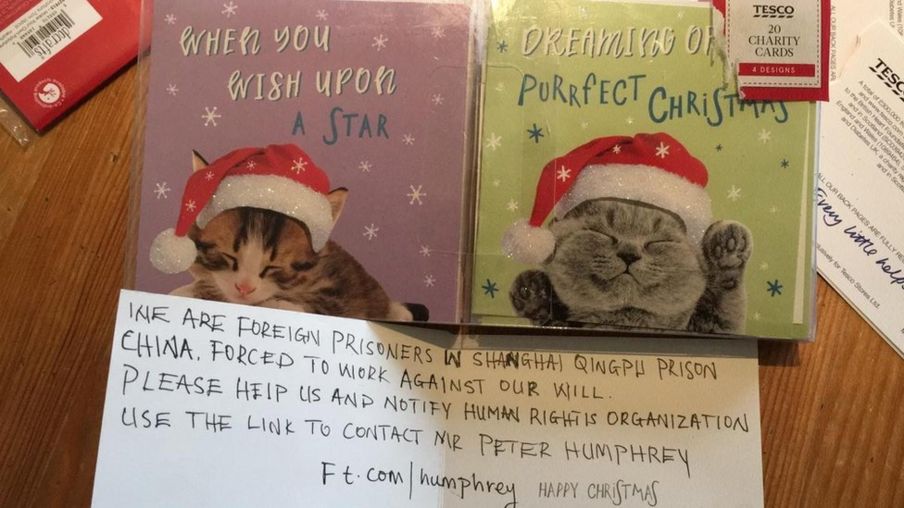 "I'm pretty sure this was written as a collective message. Obviously one single hand produced this capital letters' handwriting and I think I know who it was, but I will never disclose that name."

He said the cell block of

foreign prisoners

has about 250 people in it, who are living a "very bleak daily life" with 12 prisoners per cell.
https://www.theguardian.com/world/2019/dec/23/inside-chinese-qingpu-prison-forced-labour-claims-tesco-christmas-card
.