Posts: 49
Joined: 15 Sep 2018, 00:04
---
Posts: 13808
Joined: 19 Nov 2011, 23:56
Location: Lincoln Head City
I haven't seen it yet.
I think it's gonna be a long, long time...
---
Posts: 11065
Joined: 28 May 2008, 10:22
Location: The Glad Tidings Mission Hall
ChrisChopping wrote:What a fucking mess
Pray tell.
---
Posts: 7328
Joined: 11 Feb 2009, 11:54
Location: breaking the legs of the bastard that got me framed
It doesn't appeal to me but I've only seen good reviews. (Not that I've looked around much.)
---
Posts: 11065
Joined: 28 May 2008, 10:22
Location: The Glad Tidings Mission Hall
Yeah, the reviews I've seen are all enthusiastic so it's on my list.
---
Posts: 49
Joined: 15 Sep 2018, 00:04
It's very stagy, like the adaptation of a stage musical that never was. Plus it tries to use the songs of Elton john to tell a biographical story of his life even though the film makes explicit that Bernie writes his lyrics. Elton John is not an autobiographical songwriter. So it all seems a bit forced.

The worst thing is how it uses songs from the wrong time period all the way through, which means so many of the scenes are a much less resonant than they could have been.
---
Posts: 2517
Joined: 16 Apr 2015, 02:18
Location: NY state
is was awful. Agree with CC wrong songs at wrong times. The story was all over the place and so much more interesting stuff missing.
Best of 2019 - Concert
Best of 2019 - Non-Concert
TRUMP FOR PRISON 2020
---
Posts: 11065
Joined: 28 May 2008, 10:22
Location: The Glad Tidings Mission Hall
Anyway, how d'ya like this apple.
Elton John has been awarded France's highest civilian award, the Legion d'Honneur.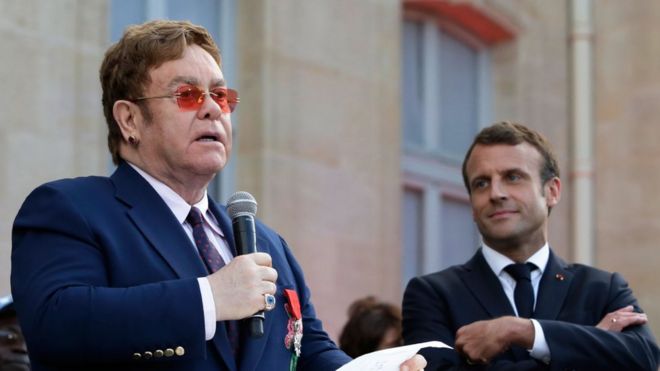 The British musician was presented with the award by President Emmanuel Macron during a ceremony at the Élysée Palace.
President Macron's office praised Sir Elton, 72, as a "melodic genius" and as one of the first gay artists to give a voice to the LGBT community.
https://www.bbc.co.uk/news/entertainment-arts-48727639
---
Posts: 18463
Joined: 11 Nov 2003, 01:50
Location: Asia's WC
I enjoyed it. The rather random use of the songs throughout didn't bother me in the way it did with the Freddie Mercury movie as this was very much played out as a musical using songs that felt appropriate for the particular scene. This worked really well at times such as the Saturday Night's Alright For Fighting sequence during which Elton grows from a boy to a teenager. Playing a medley of his hits as boy at the piano worked less well though so it's a mixed bag in that regard but when it worked it was good.

On the negative side I don't think the Pinball Wizard scene was necessary, he has more than enough of his own songs to choose from rather than use a cover. I also thought Some Saved My Life Tonight would have made a better song to accompany the attempted suicide scene rather than Rocket Man but Rocket Man did actually work well so that's a minor quibble.

As an aside I never realised his huge drop off in quality in the late 70s coincided with Berni Taupin not writing the lyrics so I checked through his discography after the movie to see if this was true and it confirmed it was. Taupin stopped writing full time after Blue Moves and stated again with Too Low For Zero which was a bit of return to form with some right old shit in between.

On the whole I have less criticisms of this than the Freddie Mercury biopic and enjoyed it more. It also made me want to dig out some old albums I haven't played in years.
---
World's Foremost Authority
Posts: 21232
Joined: 17 Jul 2003, 01:05
Location: Next to the park; across the street from the college; and the freeway at my back
Contact:
I enjoyed it, but I respect Elton more than I actually enjoy listening to his music. And of course it's a fantasy.
I'd see it again, though probably not if I had to pay to. On the other hand, I don't regret having paid once.

And while we're at it, I liked Yesterday very much indeed.
Things that a fella can't forget...
Mike Boom wrote:It is brilliant of course, probably the best of the complete Thick as a Brick boots.
---
Trading coffee in Abyssinia
Posts: 45899
Joined: 16 Jul 2003, 18:32
Location: A Metropolis of Discontent
I don't really like Elton John and don't care for many of his songs but I liked the film.
Saw it on the plane last week. I noticed that both EJ and David Furnish were involved in the production so it was going to be a rather one sided account (John Reid with absolutely no redeeming features..).

The Director, Dexter Fletcher, did his job really well. It was a bit like a musical (as Chris Chopping says above) and handled with the right amount of pace and engagement.
---
---