As most will be aware there has been a general consensus to move to an electronic transfer of the mixes each month, thus cutting out the requirement to post a physical disc. I know some have adopted this approach unilaterally and indeed I both sent and received by this method in December.
I have looked at the pros and cons of different methods and as a result I am proposing the use of sendspace. The main advantages in my view are that this means the whole process can take place within the walls of BCB and I will not need to be asking for Email addresses etc to add to any share. This may be straightforward for the few current members but I am keen that future joiners can "hit the deck running" without any further set up required. Sendspace will also preserve (or should that be reintroduce) the anonymity factor which is supposed to be part of the fun and has been lost with some fairly obvious postmarks, as the download url gives no indication of the account holder.
I used sendspace to send mix to Nick Danger in December and fould it really straightforward. The only downside I could find was that you cannot upload a folder. This simply means you need to create a zip file and then upload that. Having assembled your choice of tracks the entire process should only take about ten minutes or so. I have therefore outlined the process from start to finish below.
Two things to note

1. This is entirely voluntary, but hopefully everyone will at least give it a go. I have no problem with anyone breaking the anonymity code and arranging a dropbox transfer if you so wish, although at risk of repeating myself I hope everyone will at least try this method as it would be good to have some uniformity.

Also as a last resort I am prepared to accommodate any request to either send or receive postally

2. What follows relates to the real Windows world. I believe Rayge is a Mac user. Anyone else ? The process may vary slightly for Macs. Please let me know if you have any problems and do feel free to add any revisions to the instructions if you have found you need to change anything slightly
=======================================================================================================================
Create a sendspace account.
just click on "sign up" and follow instructions. I can't remember if there was any "bundling"going on so I'll leave you to be savvy enough to uncheck boxes if required.
https://www.sendspace.com
When I tried this out in December, my evaluation copy of Winzip had expired (Does anyone actually buy it?). Anyway I found this which is an entirely free open source alternative. This is 100% compatible with WInzip so you can upload with one and extract with the other. Examples from here use 7-zip but use Winzip if you prefer.
http://www.7-zip.org/download.html
The first part of the process remains unchanged i.e. selecting tracks for the mix. In the examples below I have put these into a separate folder.
As we are now sending MP3 files rather than burning to a CD the first step is to remove all identifying tagging. Right click on each file and select properties (or MAC equivalent?)
You will see pop up panel as shown.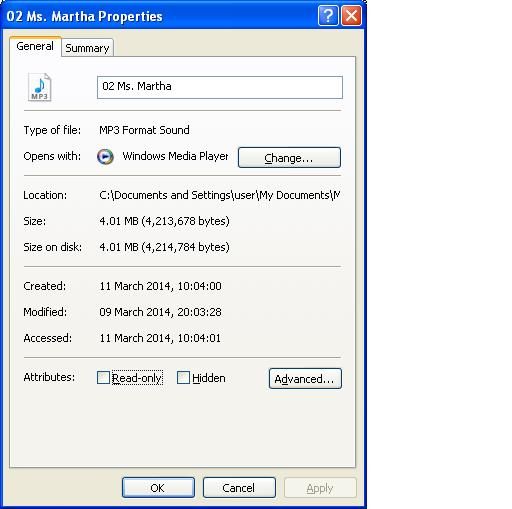 Change name to 1, 2, 3 etc depending on the mix order you require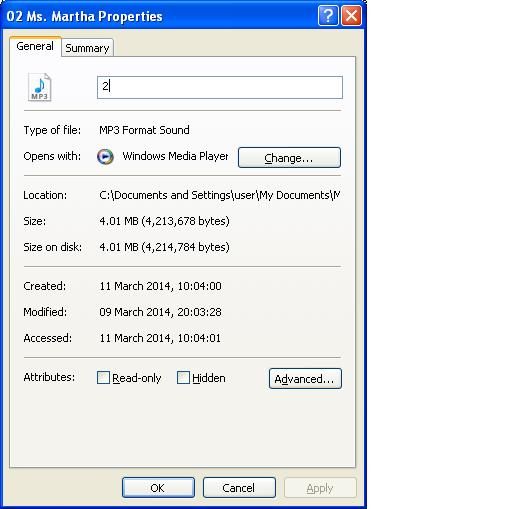 Click the "summary" tab at the top, to show panel below (If you see "advanced" rather than "simple" click "advanced to show as per below).
Remove all items in the value column. Click on each in turn and remove contents
tracks are now ready to upload. In windows explorer, right click the folder and if you have installed 7-zip you will see it selectable as shown. Select this and "add to archive" You can change the name of the zip file here if required
This creates zip file as shown. Note in this example I have changed name as mentioned above from MC to Test1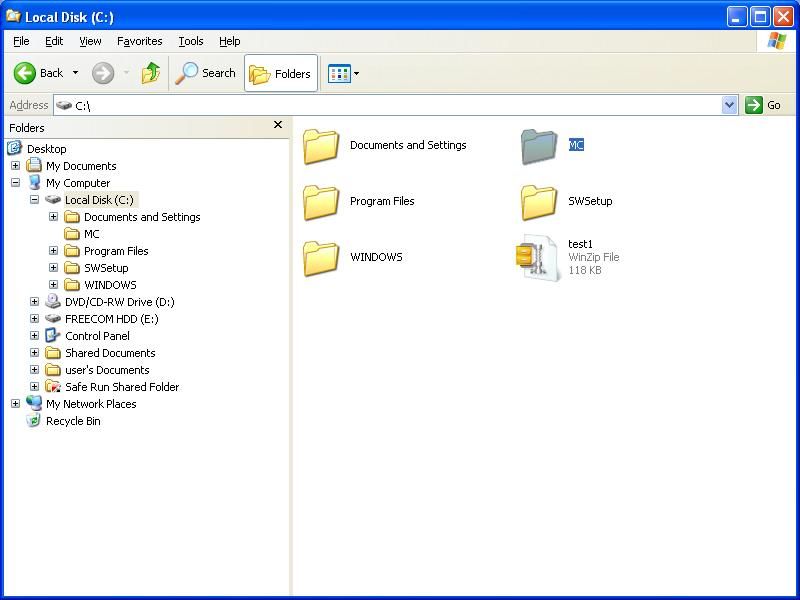 Log in to sendspace and select upload. Browse to folder containing your zip file and select
Once uploaded you will see confirmation screen as shown. Click on the copy Link button for download link (I have already done this here as it shows "copied" rather than "copy link".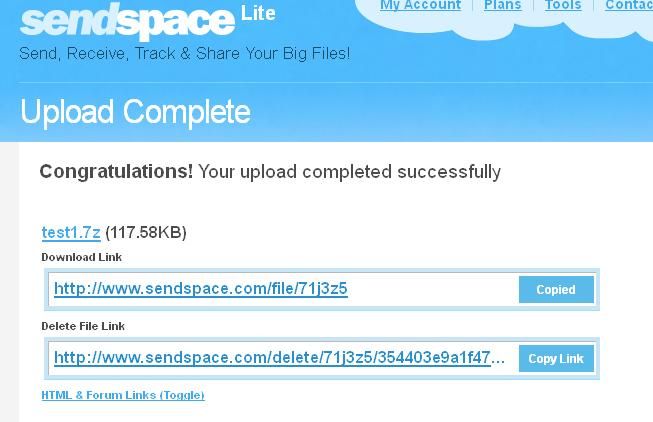 Paste this into pm to me, remembering to add the URL tags.I would suggest you do this straightaway as you cannot see this under your sendspace account login, although if you need to subsequently refer to this you will receive an Email when uploaded. I will then inform recipient and send them the link. Once downloaded you will obviously need to use Winzip/7-zip to extract the MP3 files.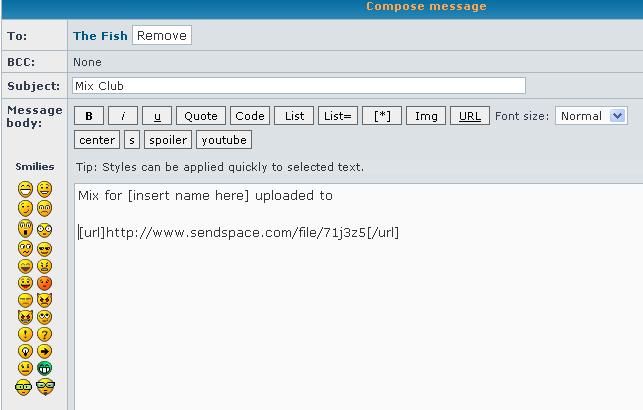 By way of one last request, although this method removes time constraints, I think total length should aim for CD length still i.e. under 80 minutes.
There seems a lot here but most of this is instinctive and most of you would know how to do much of this in any case, but I'd rather cater for all levels of techiness and aim to make it
Belgian OAP
idiot proof.Obviously I am prepared for discussions etc but please try it first, it's really a doddle.