---
The Modernist
What a strange looking arse.
---
nasty, brutish and short
Posts: 20751
Joined: 16 Jul 2003, 21:59
Location: Marineville
Dr Modernist wrote:What a strange looking arse.
Here's another:
"He's thrown a kettle over a pub; what have you done?"
---
Posts: 12383
Joined: 24 Jul 2003, 10:14
Location: Where joy divides into vision
Hello, my name is Ronn. Yes, with two 'n's. Ronn Owens - but I'm not Welsh. I am a certified Voice of Reason©™, and have solved countless debates like this with unquestionable rationality and searing insight. I have the last word on everything, whether you know it or not.

It is clear to me that there is a fundamental misunderstanding here that is leading to this skewed perception of Supergrass as "happy-go-lucky pop" and the Manics as "doom merchants". Supergrass is not a "fun, mainsteam" alternative - theirs is a woefully trite, Britpop-lite blandness which is far more slit-wrist-inducing than the Manics superior-in-every-respect Holy Bible, which is far more upliftingly anthemic - and melodic - than anything Supergrass could possibly produce. It is not one of the albums of the century, but it is the one album that separates the two bands...the creative highlight of an otherwise quite dull back catalogue of these two perfectly decent but very much run-of-the-mill bands whose sole commonality is that they are both conspicuous by their mediocrity.
Smilies are
ON
Flash is
OFF
Url is
ON
---
Bonehead
Posts: 31807
Joined: 16 Jul 2003, 18:51
Location: in front of the telly
Hello. I'm Stephen Fry. Here we are, gathered together in the very lecture theatre where Henry Morton Stanley once told an enraptured world of his momentous meeting with Dr. Livingstone. Charles Darwin was a member and gave talks in this same hall. Sir Richard Burton lectured here and John Hanning Speke … spoke. Shackleton and Hillary displayed their intimate frostbite scars to a spellbound RGS audience. Explorers, adventurers and navigators have been coming here for the best part of 180 years to tell of their discoveries. If only at school, geography teachers, surely the most scoffed and pilloried class of pedagogue there is, if only they had concentrated less on rift valleys, trig points and the major exports of Indonesia and more on the fact that Geography could promise a classy royal society with the sexiest lecture theatre in the land – if only they had done that, then maybe cheap stand-up comedians and lazy cultural commentators would be less routinely scornful of geography teachers as a class and geography itself as a discipline, which is one I rather unfashionably enjoyed when I was young. Don't ask me why. Actually, now that I think of it, one reason for me to be fond of the subject was the circumstance that in my prep school geography room there were piles and piles of shiny yellow National Geographic Magazines available for skimming through. These, with their glossy advertisements for Chesterfield cigarettes, Cadillac sedans and Dimple whisky, gave me my first view outside television of what America might be like. But there was another reason religiously to scan the magazines…

National Geographic, before it became a 'brand' best known for an imbecilic and embarrassing suite of digital TV channels, was – thanks to its anthropological coverage in a pre-internet, pre-Channel 4, pre-top shelf age – the only place where a curious boy could look at full colour pictures of naked people. For that alone it deserves the thanks of generations. One did get the false impression that many peoples of the world had protuberances shaped exactly like a gourd, but never mind. Oh, and I almost forgot to mention - the Manic Street Preachers are shite.
"I've been reduced to thruppence!"
---
Fucking Crackers
Posts: 14940
Joined: 31 Aug 2003, 01:28
Location: South Penriff
Contact:
I heard "If You Tolerate This Your Children Will Be Next" down the HMV today during my holiday shopping and it sounded really fucking good
Wadesmith wrote:Why is it that when there's a 'What do you think of this?' post, it's always absolute cobblers?
---
Maya's Prop
Posts: 12289
Joined: 16 Jul 2003, 18:55
Location: The mangy BC hills
Contact:
The Red Heifer wrote:I heard "If You Tolerate This Your Children Will Be Next" down the HMV today during my holiday shopping and it sounded really fucking good
Now
you've done it. Your children are gonna be next now, man! What were you thinking? It's not like you weren't
warned
.
---
Resonator
Posts: 23350
Joined: 10 Oct 2003, 13:47
Location: In a beautiful place out in the country
G-Z wrote:

[i]Hello, my name is Ronn. Yes, with two 'n's. Ronn Owens - but I'm not Welsh.
Sorry Ronn, but with the surname 'Owens' you are almost certainly of Welsh extraction. Other than that coment, I concur with your general 'thrust'.
I've been talking about writing a book - 25 years of TEFL - for a few years now. I've got it in me.
Paid anghofio fod dy galon yn y chwyldro
---
The Modernist
One of BCBs funniest threads!
---
BCB Cup Stalinist
Posts: 24290
Joined: 16 Jul 2003, 18:51
Location: at sea
Where is you Gaz Coombs now?!?
The Manics are so prolific and popular they are going to release 2 hit albums in a 12 month period
mwahahahaha
Seriously, anyone who voted Supergrass is a dickless wonder who doesn't like rock music.
Nazi Punks, Nazi Punks, Nazi Punks, Fuck Off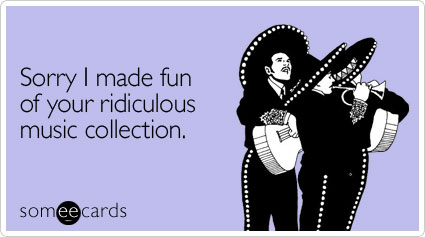 Bear baiting & dog fights a speciality.
---
---