(Rehashed from some of my 2013 posts on Bobbie Gentry)
A wonderful artist and well worth a complete career overview. I've spent a couple of years tracking down as much of her music as I could: first through compilations (The 'American quilt' comp on Raven is the best one, IMO. You can't really go wrong, but the Shout! comp focuses a little too much on the first two albums and glosses over the rest of her career, and 'Ode' has got too little of her own songs, which is a big oversight), then CDRs of the original albums (getting copies of her out of print albums from several BCBers, including lovely reproduced artwork from GuyE - which I still hang on to) until Raven Records reissued the albums (except for the Campbell-collaboration).
There are 7 albums and a couple of stand alone singles:
Ode to Billie Joe (1967)
Side 1
1."Mississippi Delta" – 3:05
2."I Saw an Angel Die" – 2:56
3."Chickasaw County Child" – 2:45
4."Sunday Best" – 2:50
5."Niki Hoeky" (Jim Ford, Lolly Vegas, Pat Vegas) – 2:45
Side 2
1."Papa, Woncha Let Me Go to Town With You?" – 2:30
2."Bugs" – 2:05
3."Hurry, Tuesday Child" – 3:52
4."Lazy Willie" – 2:36
5."Ode to Billie Joe" – 4:15
A hurriedly recorded first album after the success of the single (actually 'Ode to Billie Joe' was the b-side to 'Mississippi delta'). At this point there was clearly some mileage in the idea of Bobbie Gentry as a succesfull writer-singer. Apart from 'Niki Hoeky', all the songs are her own. (I still don't put too much stock in the Jim Ford rumors, and in the meantime I've heard some of his own songs. Nope, can't see it.)
Gentry herself complained later that she wasn't ready, and I hear it. I mean, this is an introduction to an artist capable of greatness, who already has a grasp of her own writing style, very literate, very Southern, very much concerned with parts of women's life experience that had not been voiced in songs much before. Many of the songs on the album are good to very good (I really like 'Sunday best', 'Papa won't you let me go to town with you' and 'Hurry tuesday child' a lot), but only one is great. Gentry always prided herself on the fact that she (co-)arranged her own records, but she's not nearly ready on that front: some nice touches, but many songs share the same mood and occasionally the 'interesting' arrangements cross over into quirky touches.
So, this record is certainly worth your time, but she got better - fast.
The Delta sweete (1968)
Side One
1."Okolona River Bottom Band" – 2:57
2."Big Boss Man" (Luther Dixon, Al Smith) – 2:56
3."Reunion" – 2:35
4."Parchman Farm" (Mose Allison) – 3:00
5."Mornin' Glory" – 2:57
6."Sermon" – 2:41
Side Two
1."Tobacco Road" (John D. Loudermilk) – 2:50
2."Penduli Pendulum" – 2:55
3."Jessye' Lisabeth" – 3:00
4."Refractions" – 2:20
5."Louisiana Man" (Doug Kershaw) – 2:35
6."Courtyard" – 2:58
The first of her three 1968 albums. This is the album she was trying to make with 'Ode to Billie Joe'. An incredibly ambitious work, musically, thematically and in the arrangements. It's nearer to Southern literature (your Faulkners etc) than any music I know. The quality of the groupplaying is exceptional and then the whole thing gains an extra layer of meaning through the strings and horns. The more I play this, the more I find in it. Sample some highlights on Youtube: 'Courtyard' is my favourite, but other songs like 'Mornin' glory', 'Jessye Lisabeth' and 'Refractions' are just as good and the cover songs are wonderful re-imaginings too.
Still, the album bombed. The single 'Louisiana man' crawled into the lower reaches of the charts and quickly disappeared. And with that, Gentry's period of carte blanche recording the music that she wanted to, ended. To be honest, you can see why it wasn't a succes. It's not remotely poppy. At times (the weakest parts of the album) it kind-a reminds you of stageshows ('Reunion', 'Sermon') which was not a hip thing, I guess. On those two songs, she falls short of her ambitions. She doesn't so much get into the skin of her characters ('Reunion' stages a familyreunion, 'Sermon' a sermon - obviously), as on my nerves. From then on the search for pop succes was on.
Local gentry (1968)
Side one
1."Sweete Peony (Gentry) 2:26"
2."Casket Vignette (Gentry) 2:34"
3."Come Away Melinda (Fran Minkoff, Fred Hellerman) 3:21"
4."The Fool on the Hill (John Lennon, Paul McCartney) 3:44"
5."Papa's Medicine Show (Jamie Horton) 3:50"
6."Ace Insurance Man (Gentry) 3:33"
Side two
1."Recollection (Gentry) 2:10"
2."Sittin' Pretty (Gentry, Kelly Gordon) 3:19"
3."Eleanor Rigby (John Lennon, Paul McCartney) 2:27"
4."Peaceful (Kenny Rankin) 2:51"
5."Here, There and Everywhere (John Lennon, Paul McCartney) 2:28"
(This LP tracklisting is from Wikipedia. It's always sounded to me like 'Ace insurance man' is the beginning of side 2, but I could be wrong.)
Patchy. An uneasy mixture of her own originals which continue the line from the previous album, and covers from recordings with London sessioneers - three Beatles songs which veer dangerously close to supper club territory (of course Bobbie was no stranger to the supper club scene, but still).
This is not a great album. 'The fool on the hill' and 'Papa's medicine show' are the two worst recordings of her career and when you hear 'em back to back, it sure drags the album down. 'Here, there and everywhere' is better, but forgettable. The only Beatles cover I do quite enjoy is 'Eleanor Rigby'.
But it's a real shame for two reasons. First, there is some great stuff on the album. 'Casket vignette', 'Come away Melinda', 'Recollection'... for my money she actually betters 'The delta sweete' on these songs. She's still trading in wonderful story songs ('Casket vignette' about a mortuary saleswoman!), she's still radiating that sweet sensual thing, but the arrangements are less fussy, she's learned to put in exactly what the song needs. And as a result it's more immediate, more direct. She's still growing as an artist.
Second, the great 'What if' stories in pop... There's some 1968 recordings floating around that could easily have bettered the album. I've heard six 1968 recordings which didn't make the cut. 'Hushabye mountain' was a standalone single at the time, and is gorgeous, the singing is wonderful. 'Stormy' and 'Skip along Sam' are two outtakes which were finally released on the 'Ode...' comp. Of these 'Stormy' is worth looking out for, a slow whispered take on the song. Then there were two songs recorded for a V/A Christmas album, 'Scarlet ribbons' and 'Away in a manger'. Both are good, but 'Away...' is very Christmassy. 'Scarlet ribbons' on the other hand is a drop dead beautiful performance, which should have been on the album. Lastly, there was a Spanish language version of 'Here, there and everywhere' - another failed commercial move.
In conclusion, replace 'The fool on the hill', 'Papa's medicine show' and 'Here, there and everywhere' (would have made a good b-side) with 'Hushabye mountain', 'Stormy' and 'Scarlet ribbons' and this would have been some album.
Bobbie Gentry and Glen Campbell (1968)
Side one
1."Less of Me" (Glen Campbell)
2."Little Green Apples" (Bob Russell)
3."Gentle on My Mind" (John Hartford)
4."Heart to Heart Talk" (Lee Ross)
5."My Elusive Dreams" (Curly Putman, Billy Sherrill)
6."(It's Only Your) Imagination" (Campbell)
Side two
1."Mornin' Glory" (Bobbie Gentry)
2."Terrible Tangled Web" (Billy Mize)
3."Sunday Mornin'" (Margo Guryan)
4."Let It Be Me" (Gilbert Bécaud, Mann Curtis, Pierre Delanoé)
5."Scarborough Fair/Canticle" (traditional, arranged by Paul Simon, Art Garfunkel)
'Local gentry' didn't bring the hoped for success, so more desperate measures were needed. I'm not a fan of this album, it aims for a steady mediocrity and stays there. 'Let it be me' is the only one I'd remember.
First, it's not a Bobbie Gentry album. There's one of her songs, but she doesn't play on the album, doesn't arrange. She just shows up on each song to sing a few lines and leaves the rest of it to Glen Campbell and his band. And her singing doesn't sound completely interested to me either, just professional.
Second, it's not a top class Glen Campbell album either. He did a lot better.
It's a really 'straight' record, and what I love about Bobbie, is that it's never ever straight, but always winded. But on the upside, without this album her career probably would've ended there. As it is, it brought her back into the public eye a little with the 'Let it be me' single. She managed to seize the moment with her next solo single, and so she got the chance to record what I feel is the best music of her career over her next three albums.
Touch 'em with love (1969)
Side one
1."Touch 'Em With Love" (John Hurley, Ronnie Wilkins) 2:05
2."Greyhound Goin' Somewhere" (R. Dorsey, M. Murphy) 2:27
3."Natural To Be Gone" (John Hartford) 2:24
4."Seasons Come, Seasons Go" (Gentry) 2:50
5."Glory Hallelujah, How They'll Sing" (Gentry) 2:53
Tracks 2 & 3 arranged by Don Tweedy
Side two
1."I Wouldn't Be Surprised" (Henley, Mathis) 3:25
2."Son of a Preacher Man" (John Hurley, Ronnie Wilkins) 2:07
3."Where's The Playground, Johnny" (Jimmy Webb) 2:32
4."I'll Never Fall In Love Again" (Burt Bacharach, Hal David) 2:55
5."You've Made Me So Very Happy" (Berry Gordy, Jr., Patrice Holloway, Brenda Holloway) 3:21
Tracks 1 2 3 & 5 arranged by Mark Levine
Track 4 arranged by Don Tweedy
I honestly believe this is one of the great albums of all time. Somewere between 'Dusty in Memphis' and 'From Elvis in Memphis'. I love those two albums, but I think Bobbie did it better than either. Like she finally decided to make the country/soul/pop commercial album Capitol wanted, and for good measure made it so much better than anyone could have expected.
'I wouldn't be surprised' is the centrepiece. On an album of highlights it outdoes them all. It absolutely floors me.
Gets me everytime.
I long believed this album was recorded with Chips Moman. The arrangements are só American Studios, but apparently it was all done in Nashville (recording at Muscle Shoals with Rick Hall came on the next album).
Man, here's another one:
And she got the hit she was looking for too, with her version of 'I'll never fall in love again'.
Characteristically, just like when 'Billie Joe' hit, she used the success as leverage to record another deeply personal and ambitious album, but first she did 'Fancy'.
Fancy (1970)
Side One
1."Fancy" (Gentry)
2."I'll Never Fall in Love Again" (Burt Bacharach, Hal David)
3."Delta Man" (Leon Russell)
4."Something in the Way He Moves" (James Taylor)
5."Find 'Em, Fool 'Em and Forget" (George Jackson)
Side Two
1."He Made a Woman Out of Me" (Fred Burch, Don Hill)
2."Raindrops Keep Falling on My Head" (Burt Bacharach, Hal David)
3."If You Gotta Make a Fool of Somebody" (Rudy Clark)
4."Rainmaker" (Harry Nilsson)
5."Wedding Bell Blues" (Laura Nyro)
Took me a long time to come round to this one, title track (which I've always loved) aside. It's only recently that I've realized how great the best songs on it are.
It's another mixed bag, but like 'Local gentry' it's worth it for the good bits, and like 'Local Gentry' it could have been so much better given a couple of better decisions in the song selection.
The backbone of this album is a 7-song session recorded at Muscle Shoals with Rick Hall (side one tracks 1, 3, 4 and 5, side two tracks 1, 3 and 4). Fame studios + Bobbie Gentry: the potential is clear, and everyone delivers. One of the songs, 'If you gotta make a fool of somebody', is merely adequate and should have been left unused, but the rest is great. The title track is one of those amazing tracks that could only have been done by Bobbie Gentry - Fancy taught by her mother to be 'nice to the gentlemen and they'll be nice to you', finally getting out of poverty. The tone of the session is set and continues on titles like 'Find 'em, fool 'em and forget 'em' and 'He made a woman out of me'. All set to amazing country-soul grooves. 'Delta man' and 'Something in the way he moves' slow the pace, beautiful slowburning ballads. And Nilsson's 'Rainmaker' is something else altogether.
But that didn't fill the album, so they repeat the previous album's hit single 'I'll never fall in love again' (just to be on the safe side of the public, I guess), but the track sticks out here and pulls down the record. The remaining two tracks come from a self produced session and handily show the conflicting forces that pull at her. One is 'Raindrops keep falling...', an obvious attempt at a follow up for her hit single, that despite a couple nice touches (a percussion intro, solo flute on the outro) never gets off the ground. The second track is a superb cover of Nyro's 'Wedding bell blues', that shows where her heart's at. An amazing track that points the way to her last album 'Patchwork'.
So, a mixed bag that could've been better with inclusion of the great contemporary single 'Apartment 21' (one of her best songs), and two outtakes 'In the ghetto' and 'Show off' which surfaced on the 'Ode...' comp.
Btw, 1970 also saw her most succesfull single with Glen Cambell, 'All I have to do is dream/Walk right back', more bland professionalism.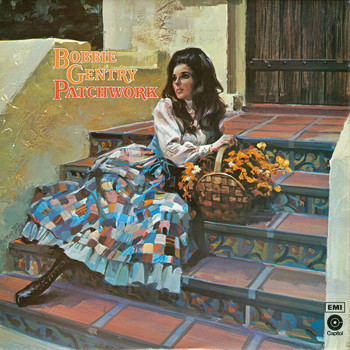 Patchwork (1971)
Side one
1."Benjamin"
2."Marigolds And Tangerines"
3."Billy The Kid"
4."Beverly"
5."Miss Clara/Azusa Sue"
6. "But I Can't Get Back"
Side two
1."Jeremiah"
2."Belinda"
3."Mean Stepmama Blues"
4."Your Number One Fan"
5."Somebody Like Me"
6."Lookin' In"
Her last album, a marvelous work. After all the covers, she returns to write all of the songs and self-produce the album. And what songs and what a production! I can see that, like 'Delta sweete', it takes a few spins to settle in. There's so much going on, it's like listening to three records in a row. But this is great, unique, ambitious and, yes, a bit flawed. The music brings together all of her influences, it's no longer country or soul or pop or literate singersongwriter, but everything at once, with instrumental links between the songs and some songs that are like complete stageplays in themselves. I can't really describe it, but I sure love it.
Sadly, that was it. There was one more amazing single, 'The girl from Cincinnati/You and me' (1972) [most comps include the A-side, but the B-side is even better, a sad sad song about lost relationships]. Work on a follow-up to 'Patchwork' ground to a halt due to a payment dispute (is what I heard), and she quit the label. Musically, she briefly resurfaced in 1974 with the song 'Another place, another time' from a movie (also on some comps), a lovely, but slight little track.
In 1976 she started working at Warner Brothers and cut a couple of tracks, one of which was released as a single. What I've heard from these tracks sounded odd and unappealing. Bobbie trying her best over an anonymous semi-disco groove. Odd stuff that didn't play to her strengths.