Imaginary meeting between Kevin Ayers and Leonard Cohen on some Mediterranean isle, late '60s.
LC: So I discovered the beats and started reading poetry in Montréal coffeeshops...
KA: I was busking in the south of France with Daevid Allen, thinking about dadaism...
LC: ...wrote my first novel, 'Beautiful losers', which got some good reviews, you know...
KA: I was on this wild tour of the States with Jimi Hendrix...
LC: ...but now I want to set these poems about the human condition to music, score some more Judy Collins covers...
KA: I'm drinking all the wine, and we'll see what happens next!
LC
(gets out Spanish guitar)
: So I wrote this song about Janis Joplin. It's kinda my showstopper. 'Giving me head on the unmade bed / while the limousines wait in the street'.
KA: Today the town seems like a tomb / Everybody's locked up in their room / Making love or taking love / Who cares?
LC: Right, but what about the tying to the kitchen chairs, the crack in everything? That's how the light gets in...
KA: Now you come and tell that you're sad / But you never talk about it when you're glad / You criticize and you shut your eyes / That's too bad.
LC: Like a bird on the wire / Like a drunk in a midnight choir / I have tried in my way to be free?
KA: Don't let it get you down, Lenny. So let's drink some wine and have a good time / But if you really want to come through / Let the good times (good times) have you.
LC: I'm not sure I follow.
By dawn, Kevin had set off with all the wine and Leonard's wife. Twelve years later, Leonard finally finished the song about their meeting, a ditty called 'Guts' ('The bugger in the short sleeves fucked my wife' and so forth). John Cale covered it on the Shrek soundtrack and the rest is history.
---
For Kevin Ayers I make an exception. I totally want him to have lived the life he sings about. Even though I know living this picaresk ideal must've included some infuriating moments for everyone else involved. Hell, even listening to his great run of albums – from '69's Joy Of A Toy to '75's Sweet Deceiver – is infuriating at times (special nod to 1970's inscrutable Shooting At The Moon). But the ideal of it: living the good life, taking off to the Mediterranean sun, dedicating yourself to the moment, benign absurdity (which seems very old fashioned these days – that's one of the things I like about him). If nothing else, I'll remember him for delivering one of the great variations on that eternal blues cliché 'I was walking down the street and...':
A lot of things can happen
As you're walking down the street
But it never fails to amaze me
The people that I meet
They all say see you later
And I just answer how
How will you see me later
If you can't see me now
Sure, at times there's some mild fingerpointing. He's not shy pointing out the divide between those that think they are free and those that are.
People say that they want to be free
They look at him and they look at me
But it's only themselves they're wanting to see
And everybody knows about it
But you see, it's only those clinging to fashionable freedom that need to feel threatened. Everyday square life is vat of absurd possibilities waiting to happen. I always feel he's on my side and I'm as square as they come. No train commuter should be immune to the thrill of Joy Of A Toy's 'Stop this train (again doing it)' – an endless surrealist fever dream of train misadventures.
---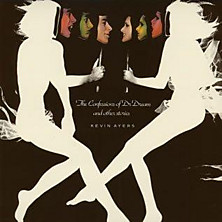 The records, briefly -
Joy Of A Toy
– bursts with chaotic joy, backing by assorted Canterbury scene alumni, some of the arrangements are a little sweet but then these songs about eating cake and cakes eating you contain enough nourishment to carry through.
Shooting At The Moon
– the band takes over the record. Too much noodling, not enough Ayers.
Whatevershebringswesing
– the favorite of Brother Spoon. A feast of moods and settings, from the orchestral opulence of opener 'There is loving / Among us / There is loving' to the frightening clang (shlock horror) of 'Song from the bottom of a well' and from the sunkissed majesty of the harmony drenched title track to the Lou Reed riffing of 'Stranger in blue suede shoes'. There's some C&W and dixieland jazz too. But it's all in the service of the songs. Recommended as a starting point for those who like variety (like me).
Bananamour
– there's a deliberate unity of sound, all those girl singers and horns everywhere. Someone must've told the artist to get it together. There's no escaping the lusciousness on this record. Took me a while to get into, but the experience paid back in spades. What songs. Lyrically he's focussed and razorsharp. 'Decadence' slices through all stylistic barriers with its alien soundscape.
The Confessions Of Dr Dream And Other Stories
– Ayers' glam rock bid for the big time. More horror pastiches and big riffs. Oh, and the title track's epic side-length descent into nightmare and insanity, of course. Curiously undervalued by the faithful, there is some streamlining going on, but when it's done this good, I can't resist.
Sweet Deceiver
– the beginning of the long decline, Ayers is noticeably less focussed and sharp, Elton John on piano (but beautifully). Still, as the decay sets in, you can luxuriate in its splendor. 'Toujours la voyage' – somewhat of a rewrite of 'Whatevershebringswesing' – is still quite gorgeous.
---
Now did I mention the man can write some melodies! Here are four of my favorites – you may have some of your own:
Whatevershebringswesing
8 weightless minutes of perfection. The chord progression (cyclical, you almost don't see the wheels turning) and arrangement (a floating layer of bass, organ and backing vocals over which Mike Oldfield plays the most lyrical guitar of his career and Ayers and Robert Wyatt harmonize into the horizon) are made for each other like watching the sun set over the sea. I see a scene somewhere on some Greek isle, a gathering of friends eating and drinking into the night, time suspended. But it's a memory – it's also a very sad song. That time is long past.
I'll sing to the island, that sings in your head
Cause I know you'd much rather be there, my friend
But you won't find the answer, even when the wind blows
cause the answer my friend, is in front
Right there in front of your nose
So let's drink some wine and have a good time
But if you really want to come through
Let the good time (good times) have you
Decadence
Another 8 minutes (I like long songs) but of something more nervous and uncomfortable. Over spiralling, echoing guitars and synths, Ayers sings an ode to a most uncomfortable woman, Marlene (but really Nico). It's got those seagul/guitar noises that sound like 'Tomorrow never knows'. At four minutes, bass, guitar and drums kick loose in a great groove. Makes you wonder why Bowie still had to go to Berlin a couple years later.
Stranger in blue suede shoes
Better add a pop song too. This is your standard Western storyline transplanted to the '60s. Ayers, the stranger in blue suede shoes, is refused entry to a bar on account of his hip attire. The stranger offers the bartender one of his cigarettes. At 1'13" the drugs kick in. 'Take whatever you like, stranger. I'm tired of filling the boss's bags with bread. I want to feel the sun and rain. I want to be out in the wind. And by the way, thanks for that cigarette. Thank you very much.' Dig that swinging piano illustrating the hip experience.
Religious experience (Singing a song in the morning)
To conclude, a personal favorite (I've never met anyone yet who agrees). 'Singing a song in the morning', a stand-alone single isn't one of my favorites, but this early take is. There's nothing more to it than a chant:
Singing a song in the morning
Singing it again at night
I don't even know what I'm singing about
But it makes me feel I feel alright
(x10, I counted!)
But the groove is just right, and the lead guitar by Syd Barrett is absolutely astounding. It may just be me but after a while the simplistic words start to sound like the secret of life itself. String theorists will understand, as will ancient Greek astronomers.
It's always like that with Kevin Ayers.