Hello Laydeez
Posts: 37620
Joined: 23 Jul 2003, 20:02
Location: The Good, the Bad, both ugly
Contact:
Beneluxfunkmeisterlurvegod
---
BCB Cup Stalinist
Posts: 24633
Joined: 16 Jul 2003, 18:51
Location: at sea
I think B was the listt hat beat me, it has gone hill fast since its gilded youth and it is now looking a bit raddled, it has definetly losts its rock'n'roll mojo. But you can't beat jackie Wilson.

A ticks a lot of band boxes but then makes strange choices, if you pick ACR why not just go for Knife Slits water it is their best song?

But even take the skin heads bowling can't make me drop B, I will stick with them and hope they repay the faith in the next round with some storming rock
I'm Jay Z on a bad day, Shakespeare on my worst days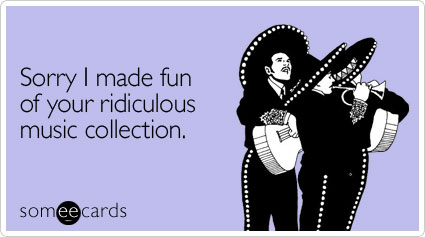 Bear baiting & dog fights a speciality.
---
Posts: 2842
Joined: 27 Jan 2007, 02:15
Location: second star to the right
---
---
Utter Cad
Posts: 51385
Joined: 16 Jul 2003, 21:22
Location: 16 Beasley Street
B wins 44 - 14

A was Alvin Row.
Goatboy to Belle:

"I suggest you retreat to the safety of your Facebook bubble. Griff has a post he needs you to like."

---
Posts: 532
Joined: 21 Feb 2008, 05:07
Location: Canada
Contact:
Well, that was a hell of a ride. My first BCB Cup went better than I expected. And I'm glad to be knocked out (tremendously so) by such a fine list.
Can you tell I'm new? Where's the bitterness? Stuff your sorrows in a sack I say.

Oh, and just to clarify, 'Session Man' is honestly one of my favorite Kinks songs. It's perfect.
---
---