A
Stepen LaVere. Respected music historian, publisher and producer. And cunt! He's the kid at Infants school who first told you there was no Father Christmas. He's the guy at college who told you that girl you fancied was shagging your best mate. He's the bloke at work who knows the score and is determined to tell you before you go home to watch the highlights. He is, in short, the pratt who found the photos of Robert Johnson.
As a young man, I held certain truths to be self-evident. Walsall FC would never win anything, I would remain a virgin forever and this -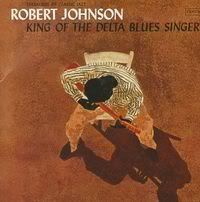 - was what Robert Johnson looked like. He was the perfect legend - a limited repertoire, all that devil at the crossroads stuff and NO PHOTO! He was a ghost, a spirit on the wind blowing from the Mississippi Delta to Bloxwich Canal.
And then in 1973 LaVere walks out the house of Johnsons "half-sister" with these -
Fuck off!!! Even 30 years later these photo's exist in an alternative universe - not mine. "Oh but it must be him. Look, he's got such long fingers". Well I'm short-sighted but I'm not Buddy Holly. I've got a big cock but I'm not Ronnie Lane. - (poetic licence!).
If my time spent reading this site has taught me anything it's that facts should never be allowed to get in the way of spurious myths. I demand the right to believe in Marianne and the Mars Bar, Ozzy and the bat and that Van Morrison really isn't one of the most miserable human beings on the planet. Smartarse fuckers like LaVere can piss on my parade all they like - bollocks to the truth!
--------------------------------------------------------------------------------------------------------------------------------------------------------------
B
Grace is the biggest scam of the '90s. Crapola for people with crap taste. There's not a coherent melody to be found on the entire album. Precious 'lil Jeffrey's "singing" is like a bag of drowning cats. This shit was never designed to be played on the radio, the dancefloor or even at parties and it sure as hell wasn't made for driving fast on the freeway. It's rock snob music pure and simple. Tunes for effete little navel gazers whose idea of a good time is going to Starbucks with their buddies to discuss existentialism and who was evicted last night on Big Brother. Students with a few hundred CDs who are like, down with Jeff's pain, dude.
But wasn't he pretty though? It sure helps when you sing the most uncommercial pablum imaginable (proving once and for all that he was an "artist) if you look like Jim Morrison or Nick Drake--both of whom had more talent to back up the image than nepotist Jeff. Oh, and he died young, in Memphis of all places, of drowning! The only worthwhile thing he ever did.
Fuck 'em.