Hello Laydeez
Posts: 37612
Joined: 23 Jul 2003, 20:02
Location: The Good, the Bad, both ugly
Contact: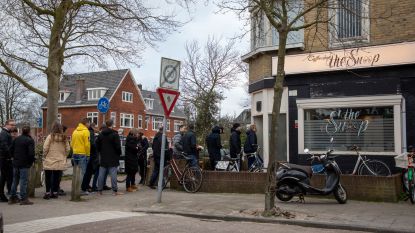 Long lines before the coffee shops go in lockdown in Holland
Beneluxfunkmeisterlurvegod
---
Posts: 20904
Joined: 16 Jul 2003, 20:22
I'm well stocked at the moment so that's a line I can avoid.
---
custodian of oldies
Posts: 26587
Joined: 28 Sep 2010, 05:23
Location: Denmark
Cup of kworfee
"When the desert comes, people will be sad; just as Cannery Row was sad when all the pilchards were caught and canned and eaten." - John Steinbeck
---
Posts: 17577
Joined: 26 Dec 2009, 21:22
The lockdown is ridiculous of course but re the coffee shops, this was told by my best friend John who visited Amsterdam some years back. As a tourist and just to see for himself tried smoking the "legal" weed in one shop and got very very high. The owner and he got to chatting and John said he lives in Japan and the owner asked if John knew Japanese, enough Japanese to write a sign for the window welcoming Japanese to the shop. John said he'd give it a try and being high he put lots of super creativity into the project. The owner was pleased with John's work and straight away he put it in the window. The next day John, now straight, went the shop and saw the sign in the window and ran away because his work of art was just so bad and so wrong and so stupid and so embarrassing.
You don't have to be smart to see how fucked up this shit is. Jimmy Dore
---
---