Posts: 61501
Joined: 03 Jun 2004, 20:12
Location: One quake away from beachfront property
Contact:
Happy birthday to a dude's dude.
OCT wrote:Roger Waters is a cunt and his music is fucking shit.
---
Long Player
Posts: 39447
Joined: 16 Jul 2003, 23:20
Location: 1220 on your AM dial
Happy fuckin' Birthday, WG Kaspar!!
If you've got nothing to do, don't do it here.
---
Posts: 4983
Joined: 05 Mar 2009, 22:22
Location: Unlisted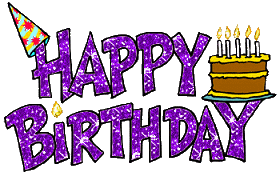 If love could've saved you, you would've lived forever.
---
2018 BCB Cup Champ!
Posts: 11013
Joined: 13 Apr 2014, 20:42
Happy birthday Theo. I hope to meet for a drink soon.
---
The Goddess of Mischief
Posts: 15281
Joined: 18 Sep 2010, 06:34
Look up here, I'm in heaven
whodathunkit wrote:
Somewhere it's always 1972.
---
Posts: 3475
Joined: 17 Feb 2014, 14:10
Location: Nevermore
Hey!!!
Heyyyy!

"Fonz clearly has no fucks to give. I like the cut of his Cupicidal gib."
---
funky thigh collector
Posts: 29319
Joined: 29 Dec 2006, 16:00
Location: In the naughty North and in the sexy South
Happy Birthday!
You come at the Queen, you best not miss.
Dr Markus wrote:
Someone in your line of work usually as their own man cave aka the shed we're they can potter around fixing stuff or something don't they?
---
Posts: 8599
Joined: 28 Jan 2007, 09:07
Thank you!
Have a happy new year everyone!
Moddie when are you coming to Bristol?
I run out of talent
---
Posts: 9861
Joined: 28 May 2008, 10:22
Location: The Steaming Metropolis
Wishing you a Belated Happy Birthday, Kaspar
Darkness_Fish wrote: I picked Soft Machine, on the basis I couldn't be bothered listening to the others.
---
Posts: 851
Joined: 22 Dec 2015, 11:00
sloopjohnc wrote:Happy birthday to a dude's dude.
Happy Birthday to a Non-Dude's Dude, too.
Diamond Dog wrote:

nev gash wrote:What is point?

Indeed, what is point?
---
Posts: 11035
Joined: 19 Nov 2011, 23:56
Location: Lincoln Head City
Dude or No Dude, Happy Birthday!
"the brakes are good and the tires are fair."
---
Groovy Queen of the Cosmos
Posts: 34032
Joined: 22 Feb 2006, 15:20
Location: bama via new orleans
happy belated birthday, theo!

and happy dude year.
---
---