I was looking through a book of photographs I have today. Photographs of all sorts of things collected from 1900-1990.
(the book is here
https://www.amazon.co.uk/Londoners-thro ... E0PCNHS9BC
and very much recommended). It struck me that the early eighties was the last definable time when things looked different to today and very much had its own style and identity.
It's strange when you think about it. After all, we have seen more radical changes (almost all related to technology) in the way we live during the last 20 years than at any other time in living memory. I reckon you'd have to go back to the introduction of electricity in daily life to find anything comparable. Yet none of this is reflected in the way things
look
. You could look at a picture of teenagers on the street from 1997 and it could have been taken last week.
Domestic interiors are always a good index of this sort of thing. For the past thirty years we have had a bland, functional minimalism.
The person living in this place isn't going to look back at a photo of it in thirty years time and think "Oh my God, what was I thinking!".In fact they won't likely think of anything at all because this is design robbed of personality and individuality. Objects are where they are to fill a space and because that's where they're meant to be. The idea is convenience and to look like everyone else so you don't have to worry about any kind of self-expression. There's no sense of someone lovingly
curating
something. Compare it to the pride your granny had in her hand painted Staffordshire china set.
Love of the past isn't just nostalgia, it's a love of times when the visual language said something evocative about those times, and said it with flair and abandon. When you see Art Deco, it tell you so much about the period: its decadance and elegance, its daring belief in the future.
I get this with all sorts of decorative design of the 20th century. Take pottery for instance..
When I look at Troika, I think of Fairport Convention and
The Wicker Man
: All witchety and pagan.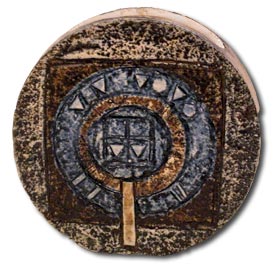 Or when I look at West German pottery from the early 70s, I think of Can and the German New Wave: Reinventing the present with a brash recklessness.
It's rich and evocative.
Don't quite know what I'm expecting as a response, but I wanted to get it off my chest! Be interested in any thoughts anyway..