None of mine have been embarrassing, but Ruth had an old model Ford Ka, in a kind of a blueish purple colour, a little like this one: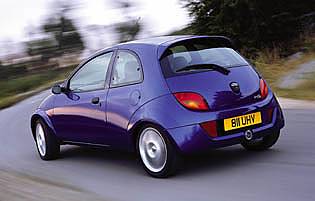 It had a 1.1L engine and was embarrassing to drive. On the days when my car was being serviced or repaired, I'd have to drive it to work, in Sheffield.
After Ruth died, I sold it to my cousin Paul, who mostly being a big motorbike fan, wasn't really that interested in cars per se and only bought it out of necessity to ferry his family around. He ran it for years until it finally died last year.