The most important parts of this will be familiar to many of you as you will have read it in different iterations through the years. But it's what matters to me, I suppose.
The picture is new to me, but it embodies a lot of what is crucial to my early life -- it certainly contains the people most formative to my early identity.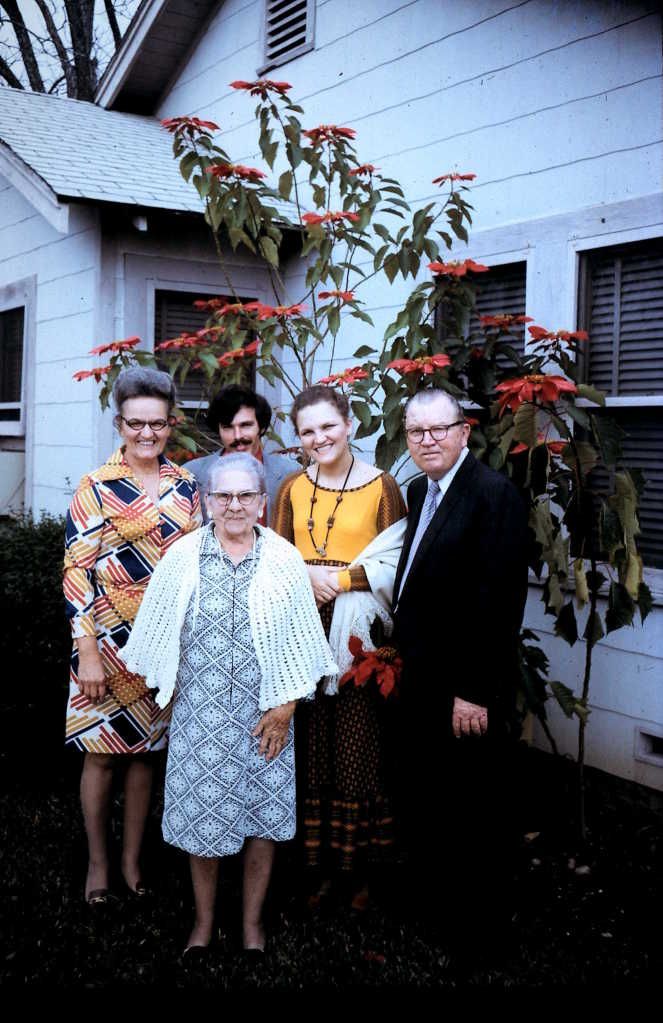 My parents met in college at a Lutheran school in south Texas. Both started their adult lives as teachers in inner-city schools (majority Mexican) in San Antonio in the late 60s. Dad is the son and grandson of pioneer German Lutheran preachers and grew up in a household of modest means in the middle of an affluent suburb of Houston. He was a weird kid, I think. I have a lot to say about my dad, but I'll just say that he was President of his Senior Class, Editor of the college newspaper, and went on to be a leader in the local teachers' unions until my parents moved to a small town to raise me when he took a job raising money for the same school where he met my mother. At that point, he seemed to lose any loftier ambitions but I suspect the move foreclosed those options. It's still a mystery to me what happened to his drive, but I've revised my judgment of it. My mom was a pretty hip kid who was into the Beatles pretty early on for a girl in small town South Texas. She had a rich friend whose mother traveled internationally and famously brought back a lot of Beatle-loot from England in the early 60s. In the picture are my mother's parents and her paternal grandmother. My grandmother taught me how to read and had nearly as great a hand in raising me as my parents as we lived in the same town. My grandfather died when I was nine, but I am him in many ways. They both came from the country, but were fairly well traveled and sophisticated for small town people. My great-grandmother never left Lavaca County and I always felt most grounded there, even when I was a kid. I felt a real affinity for the country through her and saw a vanishing world through her.
One legend of my mother's pregnancy with me placed them at a ballet folklorico event in Mexico, where there was loud, rhythmic music to which I kicked in time. Can't vouch for the verity of it. All the same, I was raised to appreciate music and it seems to have worked. My parents would take me to special kid concerts put on by the San Antonio Symphony where you would learn all about all the instruments and my Tante Jan was a music teacher who had a gig playing recorder with a harpist at an upscale brunch in San Antonio. At an early age I got to play the harp and had all manner of toy instruments to play -- Tante Jan even made me cardboard cutouts of brass instruments to pretend to play, which didn't even seem strange to me. An early ambition was to direct a symphony, so I would play records and stand on a kid's desk with chopsticks as batons and direct the music on the records.
I would be happy if the first disc I'm taking was my only record. It's a pretty standard little bit from our hero Bach.
J.S. Bach Trio Sonata In D Minor.
We went to a Lutheran church where my parents sang in the choir, which meant that they sat in a choir loft with the massive pipe organ at the back of the church, above the congregation. I got into death pretty early in my life and went through a lot of turmoil when I discovered the inevitability and reality of mortality. At the same time, I had a very happy childhood, but I was prone to melancholy and spent a lot of time spacing out, considering heavy shit. It was a highlight of the week to be up in the balcony with the choir, looking at the exposed pipes from the organ and watching the organist play with his hands and feet! The best bits were the parts where the organist would just improvise to kill time during the service -- at offering or when communion went long, beyond whatever hymns were allotted to fill the time. This particular tune doesn't have any particular meaning, it's just a good example of my favorite stuff. Reedy stops, a somewhat catchy tune, and a heavy dose of melancholy (all that is really missing is a cool, heavy drone from the bass pedals). And, of course, there are patterns in the music that seemed to match everything I looked at, from the stained glass to the beams in the roof, to the oak and pecan trees outside. Even as a kid, I remember thinking it was extraordinary that there was such deep, alarming beauty available to me in this basically crummy south Texas town. Today, when I listen to records on headphones or with the stereo turned up really loud, I'm the same kid on Sunday morning in the choir loft, staring at the pipes and the stained glass, lost in the music. For a time, the world I saw and the deepest thoughts I thought were framed by music like this.
My mom famously sold her collection of Beatle records (on import!) in a garage sale and the only pop records in the house were All Things Must Pass, three Band records, the Stan Getz/Charlie Byrd samba record, and
Living in the Material World
(George Harrison was her favorite Beatle). I was surrounded by classical music as that's what she really bought (my dad wasn't into records or pop music, he was content to sing to himself). I would pull out the non-classical records that I understood and sit in front of the stereo, focused on the gatefold for
Music From the Big Pink
and the pictures of George Harrison at his mansions.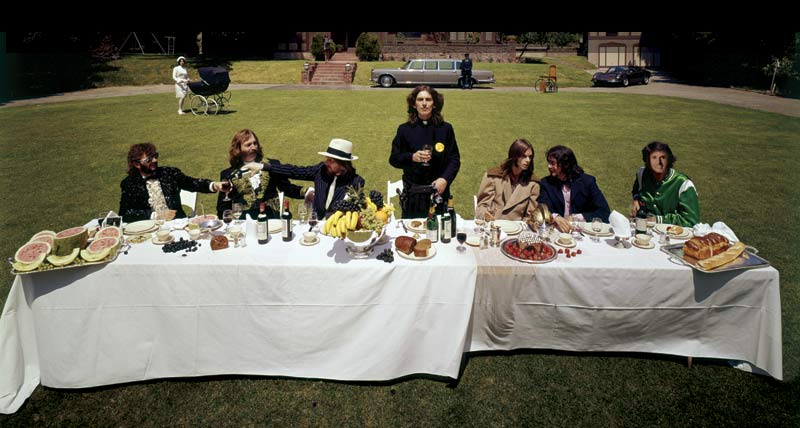 The only rock record that made sense was
All Things Must Pass
, which I would lose myself in frequently.
George Harrison "I'd Have You Anytime"
(not the best audio, but oh well . . .)
We lived in an old, two-story house with high ceilings and dark wood floors. Central air had been installed recently and the downstairs ducts were positioned in the floor, so in the summer when the A/C was running, the wooden floors were cool and with the windows shut, the house was calm. The rich, pillowy sound of
All Things Must Pass
was perfect, and the first song was the best. Like the Bach, it sounded like nothing else in my world and the rich, tuneful sounds were my private refuge. Not that I needed that or craved it, but it was nice. "I'd Have You Anytime" is really about the beginning. It's immediately obvious that you're in a different world. With vibraphones and tuneful electric guitar.
Before we moved to the small town, we lived in San Antonio. Though my dad didn't like pop music particularly, my mom was into it, particularly soul stuff. My dad had inherited a 1969 faded yellow Mercury Cougar from his great-aunt. It had black leather interior and a huge back seat that was my domain. I remember being in the back seat, lying down on drives back to San Antonio from my grandparents' house at night. The radio would be on, but my parents would be ignoring it, talking to each other.
Fleetwood Mac "Over My Head"
[youtube]R9hbEKR-qzA&feature=related[/youtube]
I would watch the shadows flicker through the car, sometimes moving slow and sometimes whipping through. Sometimes there were different shadows crossing each other at different rhythms. They captivated me. It was the late 70s and Fleetwood Mac ruled the radio. When I heard "Over My Head" twenty years later, I flashed back to lying on the back seat and watching the shadows go through the car in time with the music. I never forgot the visual memory or how it felt with the music, but I had long lost the song. It's still my favorite Fleetwood Mac tune, and is redolent of that time. That was a great time to be a little kid. I never tire of this one -- the fade in, the gently churning electric piano, the constant, quietly insistent drums, McVie's voice, the organ. And nowadays, I listen to the guitar too, but I doubt I paid attention to it thirty years ago.
Fast forward to 1983 or 1984 and I'm 9 or 10, packing my bags for the Misty Mountains. My uncle's family, including my older cousin Jonathan, moved back to Texas from Michigan shortly after my grandfather died. My cousin was four years older than me and was appalled to find me so enthusiastic for whatever was on the radio and some records I had inherited from a girl cousin (England Dan and John Ford Coley, for instance). For Christmas he was going to give me LZ I, but a cool uncle was giving him a tape of LZI and LZ IV. My cousin kept the record and gave me the tape and I took it home to play and from the first notes of "Good Times Bad Times" I was a changed boy.
It's hard to overstate the impact it had on me. I wore out the tape. Some of the tunes from LZ I are probably more nostalgic if we're talking about that sort of thing, but I'm keeping "Misty Mountain Hop."
Led Zeppelin "Misty Mountain Hop"
I love it all, but particularly the electric piano, Plant's massed vocals, Bonham nailing it down, the dual guitar solo, the loud electric piano at the fadeout . . . I've never gotten sick of this one. There's not much I can say about it. None of my friends listened to Led Zeppelin then! It was just part of my own little world and there was something so complete about having those two records on one tape -- it was a strange, green world that I couldn't exactly picture, but thought I understood completely. I'm glad I went through Led Zeppelin obsession at a relatively early age. Not all of my contemporaries were so lucky. And make no mistake: I was obsessed. I wonder whether I've ever listened to two records more.
Things progressed. Like Nolamike, I didn't have much, if any, money, but managed to get Tears for Fears and U2 all the while reading books about John Lennon and scraping together this and that by the Beatles in a haphazard fashion. As I got into my teens, I started reading Rolling Stone and the Austin weekly paper and, later, Spin. This led me to R.E.M. (my first concert -- 1989, age 15). They blew everything apart and led me to countless other bands. Invariably, Buck, Stipe, and Mills would contribute lists to year-end roundup issues and I would comb through those. Unfortunately, it was fiendishly difficult to find Big Star and Mary Margaret O'Hara and the Db's and Jesus and Mary Chain and Meat Puppets and whatever else they were pimping. But I tried and found some Galaxie 500 records in the cutout bins and, again, bought things haphazardly as I was more and more independent and could make it to Austin and San Marcos to more cosmopolitan record stores. When I hit about 16 and my friends had cars, everything opened up drastically. I got Big Star 3rd on a Line issue and was more and more up to speed on new stuff and -- most importantly -- started seeing bands regularly. The most important was probably Mudhoney. I had read about a show the year before but was unable to attend because it was a 21+ club. I had sent off to Sub Pop and desperately wanted to join the single of the month club, but could never justify the $25 or $30 that it cost. Now Mudhoney was touring for
Every Good Boy Deserves
. . . and they were playing the Liberty Lunch -- all ages and the best club in Austin. September 1991, I was 17 and it was the start of my Senior year in high school. They destroyed the room and everything that I thought I knew about what I liked. I saw a lot of great stuff in 1991 and 1992 -- many of the grunge luminaries (from Love Battery to Soundgarden), Teenage Fanclub, Afghan Whigs, My Bloody Valentine (w/Dinosaur Jr.), Lush, Ride (not together), and god knows what all else. But the Mudhoney show -- when they played "In 'n' Out of Grace" -- changed me. Before that show, the music on the PA sounded like something I knew, but I couldn't place it (when I was a star-struck kid, the pre-show music was of vital importance -- I don't give Spiritualized much credit, but they did cement my love for J.J. Cale in this manner). I would figure it out three weeks later when we were in Austin on a school field trip to the University and we popped into Sound Exchange on the drag. I had written off Nirvana for no good reason based on the Sub-Pop catalog, but there was no denying
Nevermind
. Everyone wanted to buy it just based on hearing it in the store. We fought over the few copies that had been purchased on the bus ride home.
Nirvana "On A Plain"
I would go on to do 4 years in college radio and 5 years in the record store and I saw some things come and go that swept people up, but I don't think anything ever sounded more perfect and current to me than that record did in the autumn and winter of 1991/92. I was 17, had a car, and was a misanthropic smartass. I drove a 1983 two-door Toyota Tercel and bought something like 16 huge batteries to power my old jambox left over from the Michael Jackson days so I could listen to Nevermind in the car, everywhere I went, over and over. I famously skipped Nirvana's show at the Liberty Lunch later that autumn because it was a school night, so I would've been out until 3am. I figured I would see them the next time around. The next time, they didn't play a 1000 capacity club for $6. To this day, I remember driving from a friend's house in the country after a particularly memorable day at school, with
Nevermind
pushing me through the crisp winter dusk.
And so I went to college far away, in deepest, darkest Pennsylvania. I wanted to go to school on the east coast, to get out of Texas and get as close to New York as possible. I could go to most any Lutheran school and get a very steep discount through a tuition exchange scheme. On that list, Muhlenberg was the best school closest to New York City (and hour and a half west). It was closer to Philly. Maybe 45 minutes? Most importantly, it had an established college radio station where I could get involved. I won't go into it because it's not that interesting, but though I made a lot of friends and had a great time, I could never shake feeling completely out of step with the people and place. Freshman year was the worst, and I dove into volunteering at the radio station. It was unique as it was/is staffed by students and adults in the community. I met some real freaks at that station! There's a huge contingency of Kate Bush/King Crimson human moles/burnouts in the Lehigh Valley and I met a good number of them there. I had never met anyone from that unique class of people! Anyway, I would go on to be music director and station manager in the coming years and do all kinds of shows (including my own, which was completely free-form from 8-11pm on Thursdays?), but as a freshman, I just spent time in the production studio going through 40 years of jazz and rock and roll records while keeping up with all my beloved British psych shoe-gazey stuff that was about to be eclipsed by Oasis. I had gotten into some jazz when I was younger, but had never had access to so many records. This is not the greatest John Coltrane record of its type -- maybe "Naima" or "Equinox" or whatever is better, but it's the one that is utterly redolent of my bittersweet existence in Allentown. Tyner's expansive chords and (deceptively) simple playing perfectly connected my emotions and my environment. Or maybe it shaped it.
John Coltrane "Central Park West"
Jazz made so much more sense on the east coast! This is the sound of being stoned alone in the radio station in the middle of night when I should've been studying some other language, fluorescent lights cut off, slumped in the chair behind the control desk, music blaring from the monitors. It's also the sound of snowy residential streets and Soviet-bloc apartment buildings at 3am on the walk home to my dreadful dorm from an off-campus party full of ugly Yankee chicks and boring stoner frat guys. And walking past the cemetery on Chew Street on the way downtown or to a record store. I got by and I learned a lot and made a lot of friends, and saw a lot of great indie bands in New York, Philly (especially Philly) and Boston. I can even muster some sentimentality for the Lehigh Valley. But Coltrane is what stays.
Fast-forward through record store slacker days and law school, to Houston a few years back at a time when even you knew me. I was working hard doing a job that I loved and was good at, but making no money, and was in a relationship that was probably doomed from early on. By the age of six or seven, I had worked out the incompatibility of a loving, forgiving God and the concept of hell, so never really bought into a lot of things. But I was raised in the church and liked a lot about it -- the community, the discipline, the reflection, the music. I still would take Lent and Holy Week seriously, as a matter of discipline. I found a Lutheran Church that put on one of Bach's Passions every year at Holy Week, and I started going. The music was almost like a new spine for me, jolting me awake and making me stand upright. This is Bach's baddest shit. It's truly epic and the greatest thing I've ever heard. This in particular is the conclusion of the St. Matthew Passion and brings together three hours of music and narrative.
J.S. Bach "Wir Setzen Uns Mit Tränen Nieder" BWV 244
[youtube]3HdeSmkXoKM&feature=results_main&playnext=1&list=PL2AA3D0077C178094[/youtube]
I know my parents sang this when I was a kid and I heard it a hundred times, but when I started going to the Passions and the Bach Society events in my early/mid 30s, showing up at church and getting off on the organ music, it sounded deeper than it ever did when I was a kid. I'm confident that I don't need any other music -- no nothing -- if I can play the Passion at an appropriate volume. This is a bit neutered, severed from all that precedes it, but I'm confident that it packs a wallop on its own. I love the texture of the bass that the double basses and (quiet) organs give to the sweeping bottom end. It's so easy to get caught up and lost in it. I've got to find a way to get together enough money so I can put a period double-orchestra and choir on retainer so they can just do this and some arias and the like from the Passion for my funeral, though I accept that the hilarity in it may not get through to everyone.
But I'm not ready to talk about death because I have so much to look forward to. The last song came to me on cds that my wife sent over in the early weeks of our long-distance courtship. It gives me a rush every time I hear it as it has always evoked her presence, for some reason.
Goldfrapp "Clowns"
When I hear it, the strong sensation of her presence is everywhere -- the vocals, the crazy strings. This was powerful enough in the early weeks and months of impossible separation after our improbable meeting, but since then, she walked into the room for our marriage with an instrumental version playing, which has obviously added layers of significance. Since the first time I heard it, it was the perfect aural picture of her and caused my knees to turn into jelly. I could say more, but I'll spare you! Suffice it to say, I'll be needing this record on the desert island, to be sure. It is certainly responsible for drawing out the strongest emotions from me of all those that have made this strange list.
As for a luxury . . . I'm not too good at thinking about this and prioritizing. I think a piano would be the happiest and most fruitful puzzle. I took lessons as a kid and so I know my way around it, but never applied myself adequately. I could be happy sitting and plonking out chords, but it would also give me something to apply my mind to with some rigor. I'm not too concerned about the books. If I get complete Shakespeare and the Bible, that covers a lot of ground. I thought about some sweeping 19th Century novel or a dense philosophical tome that I could spend years unraveling, but picking any one seems so arbitrary and unsatisfactory. I think I'll take
Larousse Gastronomique
. It not like I'm going to be needing 20 different preparations of eel, but I've always been fascinated and entertained by the book, and it would be a great springboard for dreams about civilization.