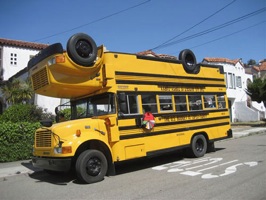 These are some of the cars Tom built. Modified, rather, I guess.
Here's Tom as John McCain with me on security detail:
Tom built these cars (and others on commission) and did political activism in San Francisco and the Burning Man community. He was the last person I'd have expected to die in a drowning accident yesterday. He was always looking out for others' safety, always the rock.
His passing is going to leave a big hole in a lot of peoples' lives.