June 4 this year would have been my father's 100th birthday, if the dear man hadn't died more than a half century ago. I have written a lot about his death (
http://raygeb4beauty.blogspot.com/2017/ ... today.html
), but, before this, not his life.
And at least a part of that is that I don't really remember him. There's a recording of his voice somewhere, and a five-second clip of him walking around the garden in Ware that I still have on a VHS tape, but I can't really recall the way he sounded, or moved, just incidental memories of times we spent together, places we went (not many of those: he wasn't an explorer), a few things he told me about his childhood, and a cache of photographs. So, George Harry William Granger was one of five children (I think – only two of them survived into adulthood) born to Walter Granger (1894-1967) and Harriet ('Kitty') Collins (1892-1967), whose first child was born, and died, when they were both in their mid teens. Their second child, Minnie, was born in 1912, and I knew her as Auntie Min. According to family legend, a crippled brother lived until his early teens and another baby was accidentally killed during a home delivery by a drunken doctor. Did I mention that they were a dirt poor family?
Walter, along with three of his four brothers, went to France in WWI. Sam and George (after whom my father was named - Harry and William were his uncle's on his mother's side) died at Passchendaele, and Tom was badly injured, or shell-shocked - memories are hazy – and had emigrated to Canada before my father was born. He had died not long after he go there. Walter was uninjured, at least physically. I remember that, some time in the early Sixties, when I was about to go on a school trip to France, I asked granddad if he would fancy going abroad on a holiday, and he said, rather gnomically, 'I've been abroad. I didn't like it.'
Some time in the 1950s, Walter disappeared for a while from the rented home at 6 Glenwood Road, Tottenham, where Dad was born and Walter and Kitty – and indeed Auntie Min and her family – lived until he died in 1967, and where dad, often with me tagging along, would visit every week . It was only long after all the Grangers were dead that my mother blurted out that Walter had been serving six months for some sexual offence involving children; I've tried to find out more, but my mother never spoke of it again, and Scotland Yard were obstructive when I tried to access the records in 2014.
Dad was born with one leg, his left, shorter than the other: the difference was nearly two inches when he was an adult, and he walked with a distinctive rolling gait. He was undersized, too, just under 5' 6" (I inherited my height from my mother's family). I never saw him run: he didn't do sports of any kind, although he was a decent snooker and darts player, and made an agreeable horsey for me to ride up and down the corridor at 186 Clyde Road when I was a toddler, one of my earliest memories, delirious fun. I don't know much about his schooldays, apart from the fact that he was always second in his class, but I suspect that he was bullied: photos of him as a teenager and young man, before he met my mother, showed him with very sad eyes. I only know of two friends from his youth, both of them from Glenwood Road: there was Frankie Woodward, who was his best man, and whom I never met (after the war he went to work at the car factories in Oxford and to live in Witney, less than 100 miles away, but I don't think they ever saw one another again) and Reggie Redford, who lived in Glenwood Road for decades. It was Reg who shot the film I mentioned at the beginning.
Dad left school in 1934, aged 14: there was no question of him staying on, the family needed another income (Walter worked as a painter on the railways, then as a painter and decorator and wedding photographer, with a darkroom set up in Glenwood Road). Dad started training as a tool and die maker and metal-worker. He was a natural, and soon learned to operated a lathe and other precision instruments. He had always been 'good with his hands' (although, as he later told me, in one of his favourite aphorisms, If you can read, and have a library card, there's nothing you can't make or do). He was an auto-didact in all manner of practical things, particularly DIY, carpentry, cabinet-making, painting and decorating, toy-making, even playing the piano-accordion (he pawned it to buy my mother an engagement ring, so I never heard him play): he could wire up a house, do a bit of tiling, and turn his hand to plumbing if he had to.
His whole life was marked by a succession of more or less creative hobbies and enthusiasms that included marquetry, painting, electronics, building radios and circuits, making lead and plastic toys from moulds he made himself, breeding tropical fish, building sheds and extensions to houses, and making lamps, as well as doing wonders with wood and metal lathes, which he installed in the sheds he made at the bottom of the gardens in two of the houses we lived in. I well remember sitting in the living room at Arnold Road doing my homework in winter evenings and watching him at work in the illuminated shed, chatting animatedly at whatever he was working on (so 'it would know what was expected of it.')
Because tool-making was a reserved occupation, and of course he was lame, there was never any question of his enlisting in World War II, which is how, some time in 1940 or 1941, he found himself standing next to my mother in a queue at the Post Office. I've never understood how two such shy and diffident people, neither of whom had ever dated up to that point, managed to start talking, but I'm so glad they did. When I cleared my mother's house after she went into a care home in 2014, I found a cache of love letters they sent one another around this time. I read one, and it was heartbreaking to be presented to them as young people full of fire and feeling – I've never been able to bring myself to read the rest. They married on the 3rd of July, 1942, and found a flat in Chesterfield Gardens, Harringay, where they were still living when I was born in October 1948.
My mother had had miscarriages before, and my traumatic induced birth (three weeks overdue, breeched, nearly 11lbs in weight, forceps delivery, born with double pneumonia and had to spend first weeks of my life in an incubator) left her unable to carry a baby full term again, so I was always going to be a only child, with two doting parents. They had very different hopes and expectations for me – not that I was aware of that growing up, and I don't know that they were. My mother claimed that they never, ever argued in all their time together, and certainly, growing up with them, I never heard a raised voice or witnessed either of them angry with each other. I grew up believing this was the norm, which caused me some problems when I started forming relationships of my own.
I was a precocious kid, reading when I was three, and as the years went on, Dad supported and encouraged me to learn, to read for the joy of knowledge and the love of words, to follow leads, enquire and pursue any hobbies and interests – he bought me shedloads of books, factual stuff mostly, children's encyclopaedias, atlases, dictionaries and so on, which I lapped up – and took a quiet, but deep and genuine, pride in my academic achievements, as not just the first in the family to get to university, but the first not to leave school at the earliest opportunity. He also got me reading newspapers - well, the Daily Mirror, a much more serious paper in the 1950s and early 1960s – and engaging with politics. He was a staunch unionist and socialist, a Labour voter all his life, although never an activist that I remember. My mother, on the other hand, fretted about me, always just wanted me to 'be normal', not to 'always have my nose in in a book', to 'settle down' and, as an unspoken subtext, provide her with grandchildren to dote on. She loved babies.
My mother quit working when I was born, and stayed home until I went to school in 1953 (the only gap of more than a few weeks in a working life that went from 14 to 80), so Dad, suddenly the only breadwinner for a family of three (as well as helping out his Mum) used to work overtime when it was available, and often all day Saturday as well, so in my early years Mum and her mother (Mum and Dad had quit Chesterfield Gardens in 1950-51 to move in with my maternal grandmother in the house in Clyde Road where my mother had lived before the War. We had a bedroom (with me in a cot), a living room and shared the kitchen and scullery) – were ever present, enforcing the rules and regulations (as well as, to be fair, wheeling me off to the park and otherwise indulging me), while Dad was this mystical figure who left the house before I was up and about and often got home after I was in bed, and whom I saw at best for a few minutes where I was the centre of attention. But, for one day a week, he magically became available for (horse-)play, perhaps a wander or a bus from Clyde Road to Glenwood Road (it was less than a mile) to visit his family, and general good times. He was also around for celebrations and general excitements such as Bonfire Night and Christmas, of course.
When I started school, and could stay up later, his role changed. Now Mum was working all day Saturday, and he would just be doing half days, or not working at all, at the weekend, so we could go on bus trips - seeking out tropical fish in the wilds of Wood Green, maybe visit the odd toyshop, and in the evenings and odd afternoons when he was not beavering away in his sheds or workshop, listen to the radio together, especially The Goon Show, which he loved - he could do all the voices and catchphrases, which was pretty magical as far as I was concerned: my mother's incomprehension of the Goons was the first sign I had that there was something a bit wrong about her
– but also Hancock's Half Hour and Charles Chilton's Journey Into Space, among other things. He did not just like a laugh, he was a genuinely funny man too, with a dry wit and a liking for punnery and for gentle teasing.
He would also play games with me on Sunday afternoons. Board games, such as ludo, Scrabble, Monopoly and Totopoly had their place, along with word games (like listing all the words we could make from the letters of a large word chosen at random from dictionaries), draughts, shove-ha'penny and dominos, and plenty of card games, but the one that was specifically ours was cribbage: I learned not just the rules, but also the tactics and the language from him. We played every Sunday for about a decade.
He loved his home. He hardly ever went out in the evenings, occasionally en famille to see a film, once that I remember to a circus, and a few times he took me to see wrtrestling shows at Tottenham Green, but never to a restaurant (above our station), club or pub. As far as drink went, I remember him as a sherry at weddings and maybe a liqueur at Xmas kind of guy; drink was kept at home for guests, but they were few, just my mum's brothers and sisters and their kids, and that would be in the daytime, or Dad's friend Eric, whom he knew from work. Mum never really drank at all.
Dad was a smoker, though, rolling dimps of Old Holborn or Golden Virginia, occasionally indulging in some Passing Clouds as a birthday treat, or the odd cheroot. He also smoked a pipe, and really loved sweets – especially chocolate – and the cream off the top of the milk, although he was never a big eater, and never got particularly overweight, although of course he did very little exercise because of his lameness.
Something else he never did was learn to drive, although he did ride a bike to work – I remember an electric blue pair of bicycle clips he wore that fascinated me as an infant – and later a moped, from which two anecdotes unfold. The first of him as (I presume) a teenager deciding to ride to Southend and back (a journey of I guess 80 miles round trip) with his friend, Frankie Woodward, and them taking sandwiches for sustenance and setting off in the morning full of plans for lunch by the sea, a quick stroll up the pier, then home in time for supper. They stopped for a breather and a bite on the way, realised that they had in fact eaten everything they had brought with them, and that the best thing to do was go back home. Which they did, arriving just before noon, having done about 20 miles in total. And the second, the memory of him coming home from work on Saturday halfdays with wrapped fish and chips for our lunch buttoned and belted into the voluminous windcheater he always wore on his moped. I loved that. I loved him.
Well, that's a lot more than anyone needed to know, but I'm well aware that, apart from my cousin Tony, the youngest of Aunt Min's children and just two months older than me, and my school friend, Clive, who met him just the once, there's no-one else alive who can remember him. And indeed there is very little outstanding to remember, no great triumphs or tragedies, just a decent bloke: loyal, amusing, industrious, self-effacing, without an enemy in the world and always prepared to help out friends and family, and the odd complete stranger, if he could. I would have loved to get to know him better as a man, and to have shared the last half-century or so with him, but, well. I would like to think I followed his example, too, but I know I didn't quite manage it. Bu then again, perhaps he didn't, either.
One other of his aphorisms that I've taken to heart is that no job is ever finished until you have cleared up after yourself and put your tools away, so I'm just going to edit what I have, even though dozens of fragmentary quotidian memories have presented themselves as I've been writing this, and look for some photographs to help tell the story.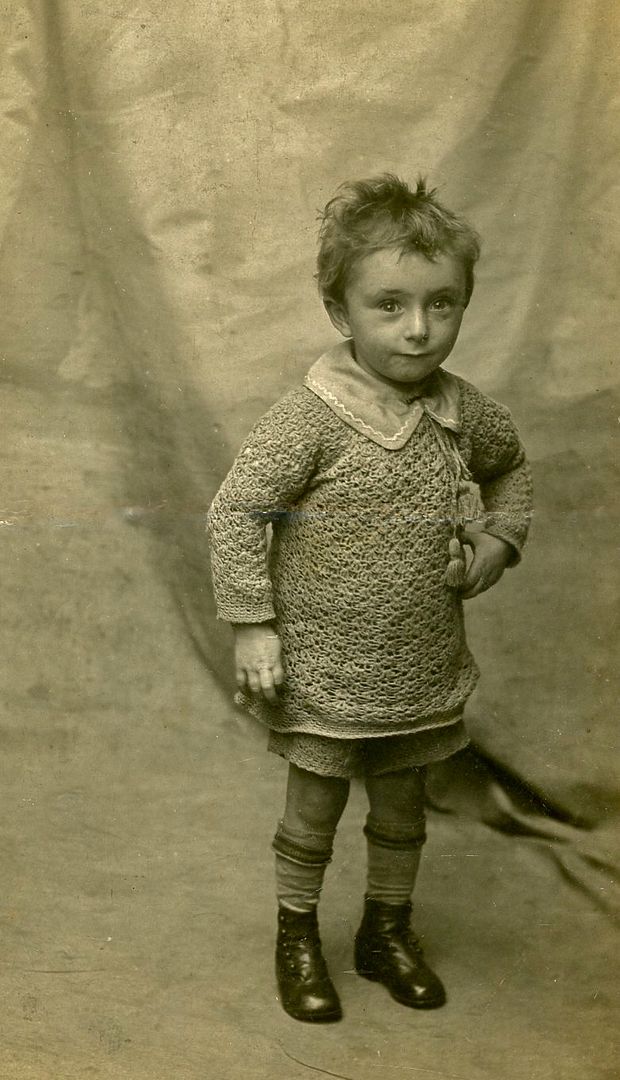 Boyhood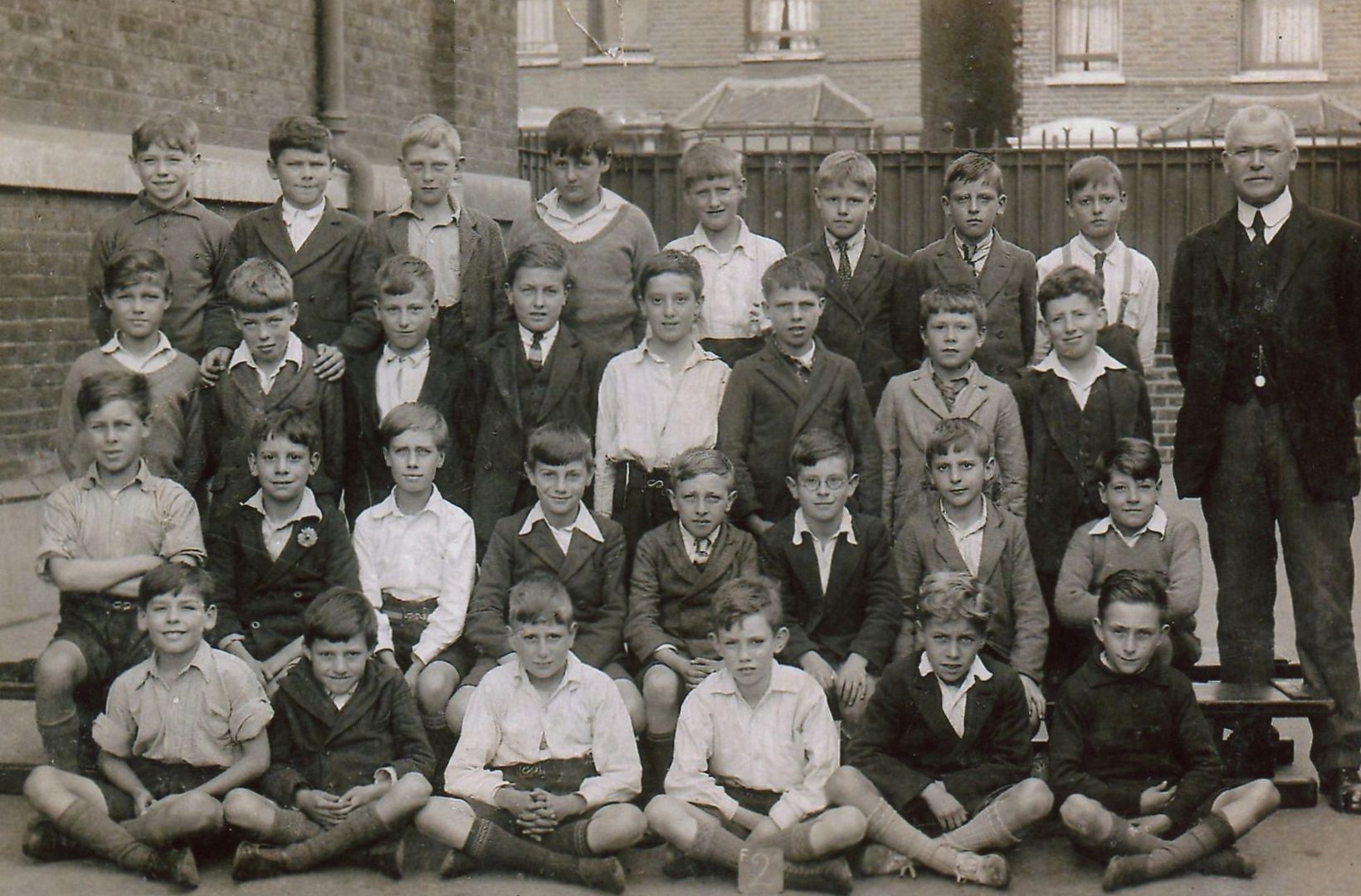 Schooldays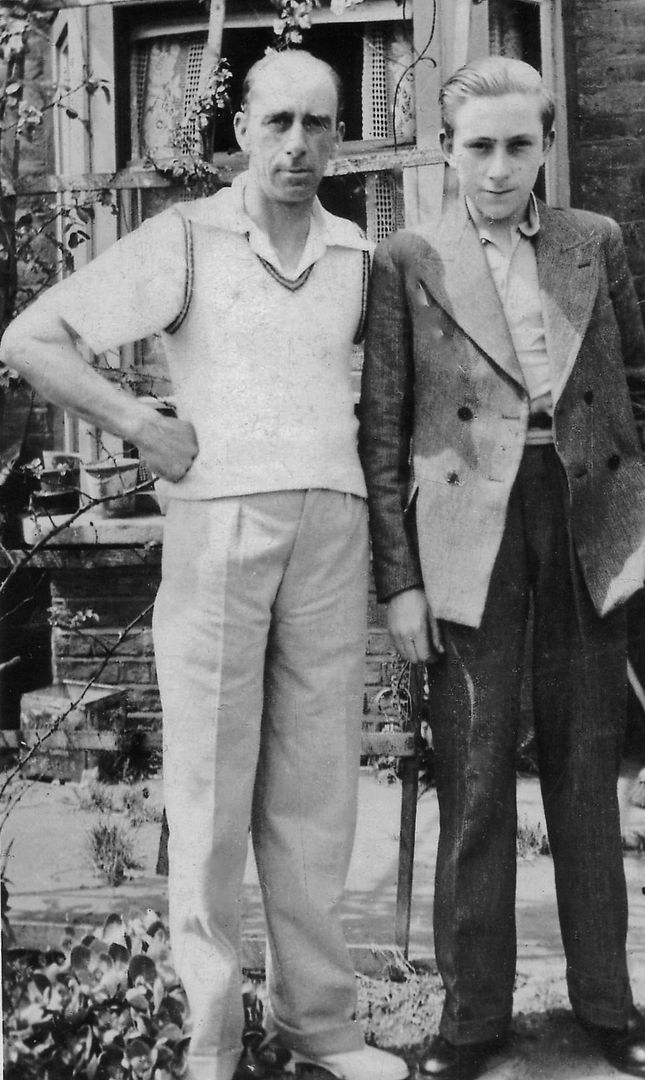 With Walter
Teen
3 July 1942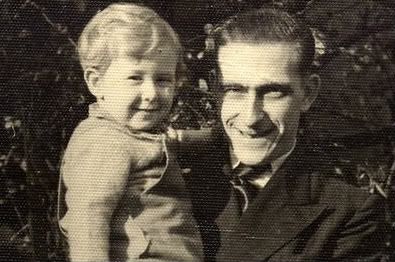 Family Man 1951, Clyde Road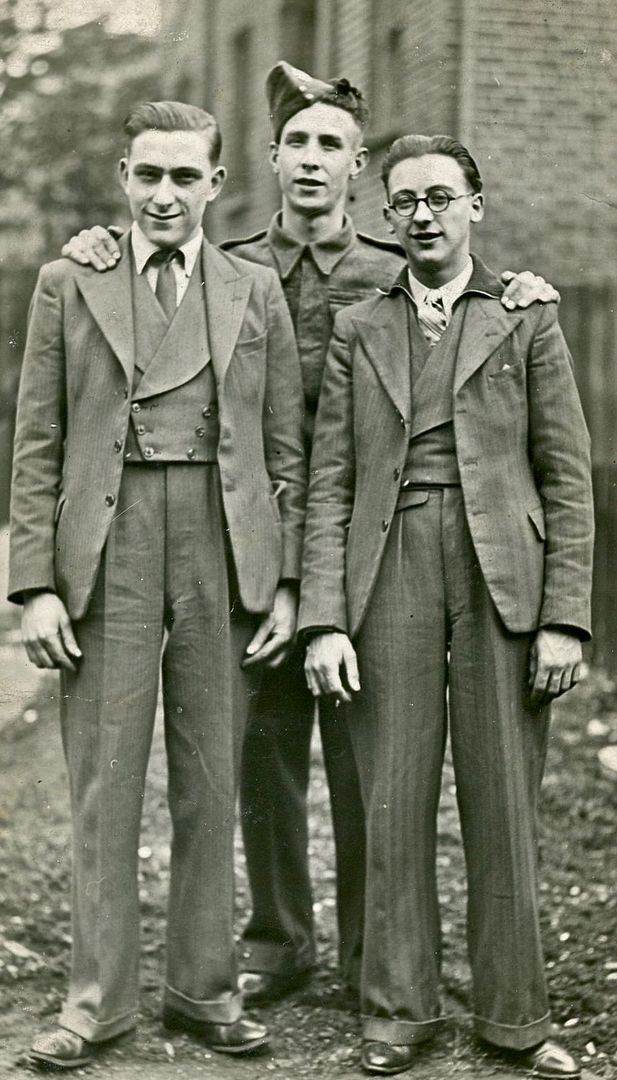 With Frankie Woodward (right)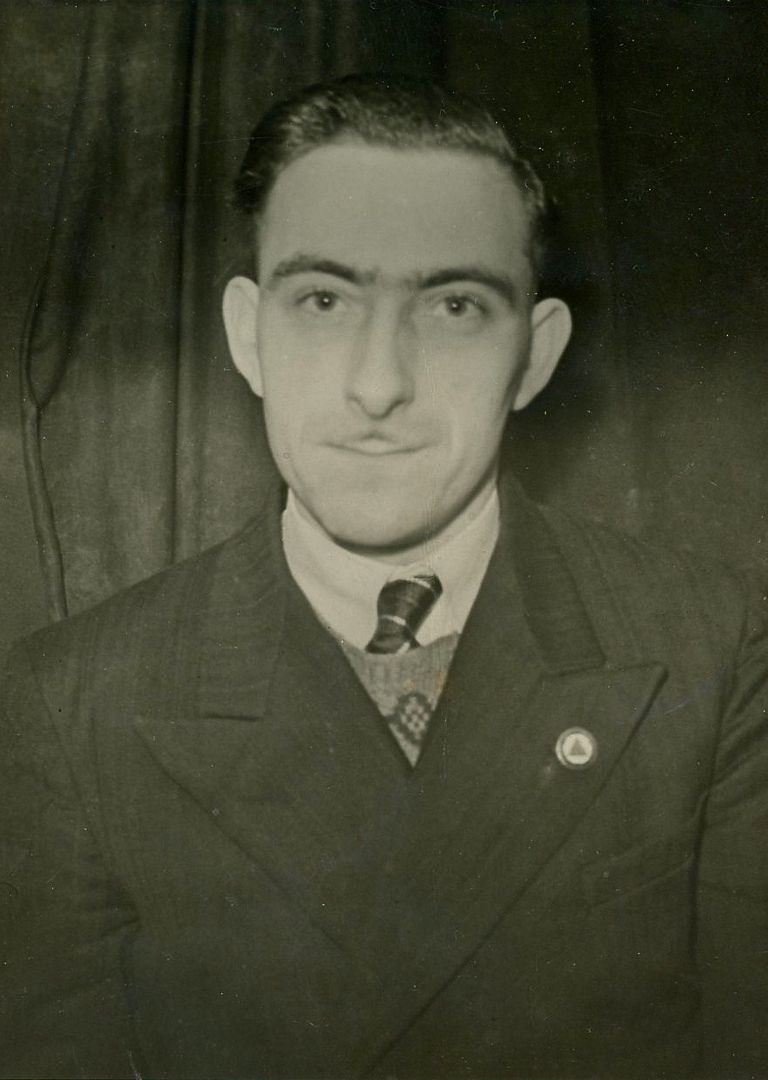 Trade Unionist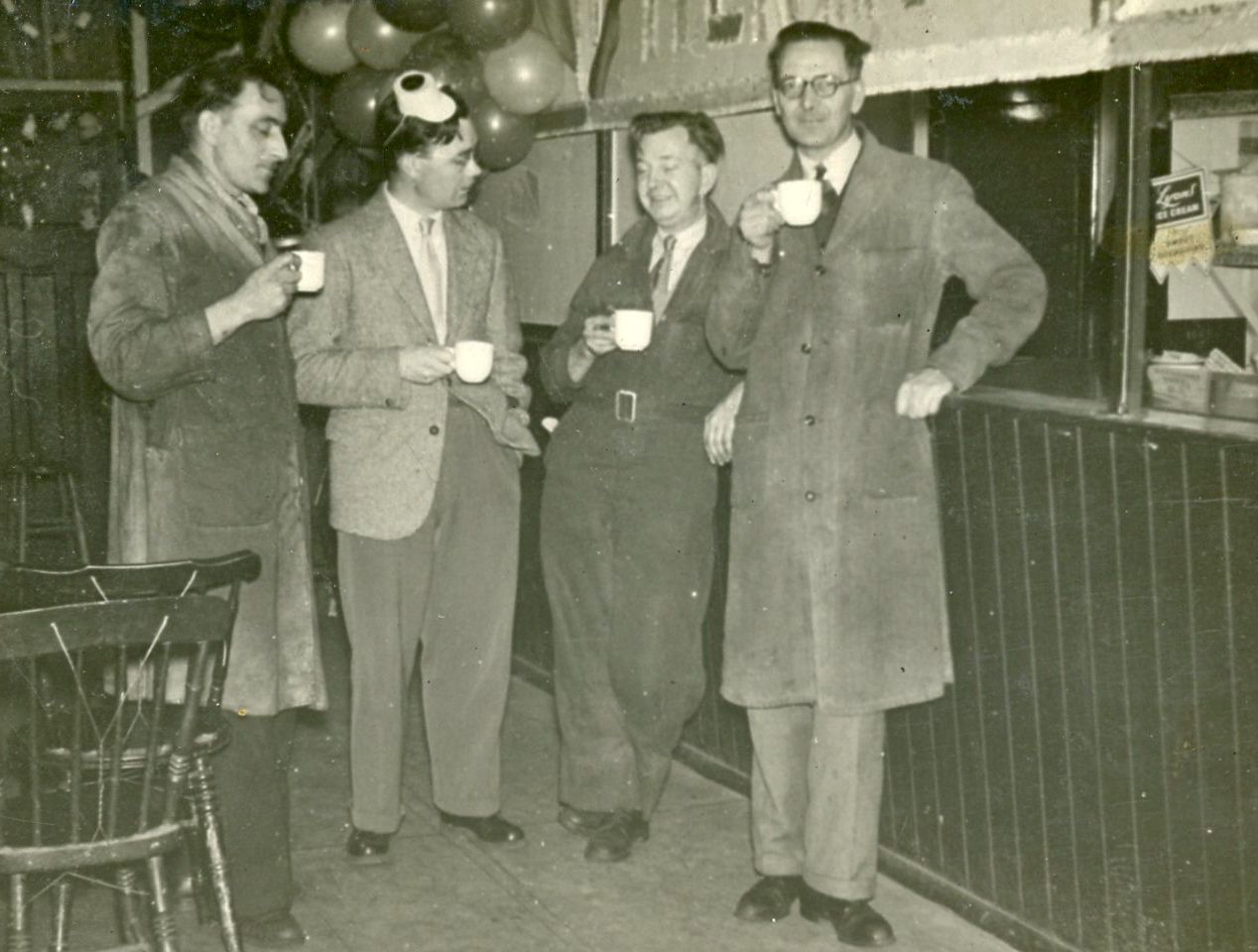 Tea Break
Lunch Hour
That's Eric with the arrows in his hand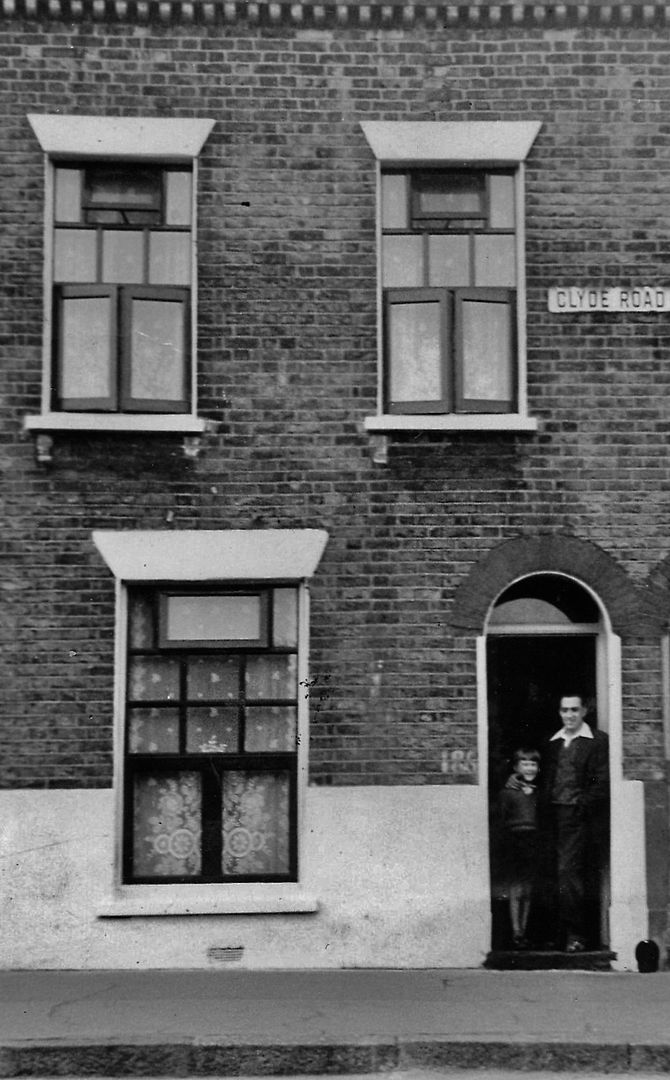 Home Owner
Holiday 1960s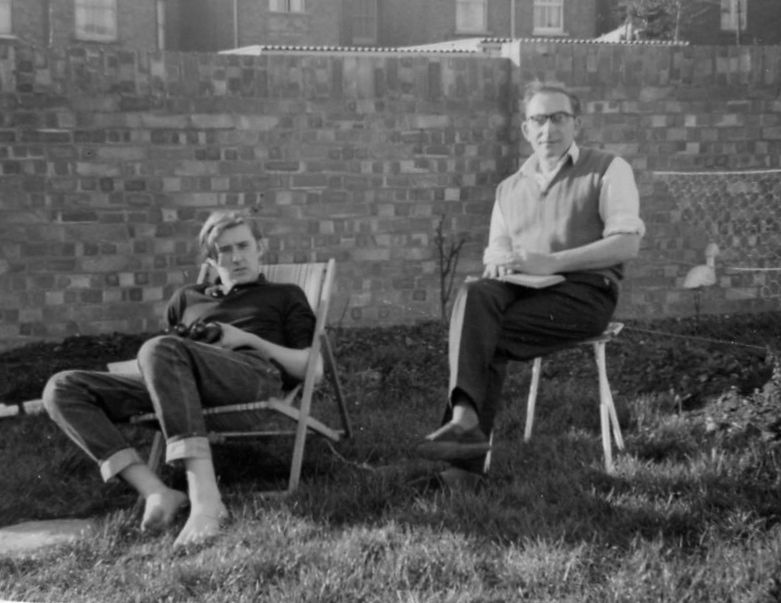 Ware, 1965
He bought me the binoculars I'm holding for my 16th birthday. Still have and use them
Last Image of Family, 1965