The Ninth Configuration
This is a funny one. Written and directed by William Peter Blatty it's an odd mix of surreal comedy and angsty theology. It's a bit messy and the shift in tone halfway through the movie is odd but there are some funny lines, some good performances and memorable images although I found the angsty theology stuff a bit alien. Oh, and a great bar room fight with a hilarious homoerotic undercurrent.
Recommended perhaps if you want something a bit off the wall and weird.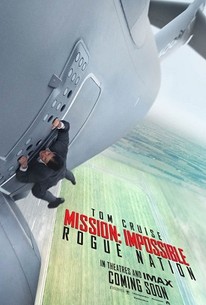 Mission Impossible: Rogue Nation
I liked the first Mission Impossible movie but had little time for what came after until Brad Bird took the reins for Ghost Protocol which was hugely slick and enjoyable pop corn nonsense with fantastic stunts. Rogue Nation carries on in the same vein and it has a pleasing physicality that is sometimes missing from this sorta movie. I know Cruise is a wanker in real life but he's great at this sorta shit.
There's a new one out this year and the same director is in charge. I'll watch it.