It's been three years since the last film-related poll, so it's about time we opened a new one. Essentially, the voting system is almost exactly like the ones employed by TopCatG and Pênk used for their respective music polls, but expanded. You will need to send a PM including
FIFTY
(50) films, with up to 250 points distributed as you wish among them. If the film is not in the English language, then please
write both the original title and its English translation
. Include
year and director
for each film, that way I don't get the films mixed up. Submissions will be allowed until July 18th.
At long last, THE RESULTS (
WARNING
- for the most part I've tried the best I could to find the original trailers, or at least clips which were representative enough of the film in order to complement the list as samples, but it is necessary to point out that some of these, despite being the official trailers of the time, contain
spoilers
):
100=
Trois couleurs: Rouge [Three Colours: Red]
(1994)
Directed by Krzysztof Kieslowski
Synopsis: The final section of the late Krzysztof Kieslowski's acclaimed Three Colors trilogy (preceded by Blue and White) is the least likely of the three to stand alone, and indeed benefits from a little familiarity with the first two parts. Nevertheless, it's a strong, unique piece that reflects upon the ubiquity of images in the modern world and the parallel subjugation of meaningful communication. Irene Jacob plays a fashion model whose lovely face is hugely enlarged on a red banner no one in Geneva can possibly miss seeing. Striking up a relationship with an embittered former judge (Jean-Louis Trintignant), who secretly scans his neighbors' conversations through electronic surveillance, Jacob's character becomes an aural witness to the secret lives of those we think we know. Kieslowski cleverly wraps up the trilogy with a device that brings together the principals of all three films.
--Tom Keogh (amazon.com)
Votes: 3
Points: 20
Voters: the masked man (5), TopCat G (10), Sgt Pepper (5)
100=
Barry Lyndon
(1975)
Directed by Stanley Kubrick
Synopsis: A gentlemanly rogue travels the battlefields and parlors of 18th century Europe determined to make for himself the life of a nobleman through seduction, gambling and dueling in this methodical film showing the rhythm and life of the period.
--Keith Loh (IMDb.com)
Votes: 3
Points: 20
Voters: Ghost of Harry Smith (8), Davey Avon FatBoy (2), PENK (10)
99
La passion de Jeanne d'Arc [The Passion of Joan of Arc]
(1928)
Directed by Carl Theodor Dreyer
Synopsis: A chronicle of the trial of Jeanne d'Arc on charges of heresy, and the efforts of her ecclesiastical jurists to force Jeanne to recant her claims of holy visions.
--IMDb.com
Votes: 3
Points: 21
Voters: Algroth (10), Ghost of Harry Smith (6), toomanyhatz (5)
98
The Long Goodbye
(1973)
Directed by Robert Altman
Synopsis: Elliott Gould gives one of his best performances (Esquire) as a quirky, mischievous PhilipMarlowe in Robert Altman's fascinating and original (Newsweek) send-up of Raymond Chandler's classic detective story. Co-starring Nina Van Pallandt and Sterling Hayden and written by Leigh Brackett (The Big Sleep) The Long Goodbye is a gloriously inspired tribute to Hollywood (The Hollywood Reporter) with an ending that's as controversial as it is provocative (Los Angeles Times)! Los Angeles private eye Philip Marlowe (Gould) faces the most bizarre case of his life, when a friend's apparent suicide turns into a double murder involving a sexy blonde, a disturbed gangster and a suitcase full of drug money. But as Marlowe stumbles toward the truth, hesoon finds himself lost in a maze of sex and deceitonly to discover that in L.A., if love is dangerous friendship is murder.
--DVD description
Votes: 3
Points: 22
Voters: Snarfyguy (5), Owen (7), Brer Baron (10)
97
Harold and Maude
(1971)
Directed by Hal Ashby
Synopsis: Black comedies don't come much blacker than this cult favorite from 1972, and they don't come much funnier, either. It seemed that director Hal Ashby was the perfect choice to mine a mother lode of eccentricity from the original script by Colin Higgins, about the unlikely romance between a death-obsessed 19-year-old named Harold (Bud Cort) and a life-loving 79-year-old widow named Maude (Ruth Gordon). They meet at a funeral, and Maude finds something oddly appealing about Harold, urging him to "reach out" and grab life by the lapels as opposed to dwelling morbidly on mortality. Harold grows fond of the old gal--she's a lot more fun than the girls his mother desperately matches him up with--and together they make Harold & Maude one of the sweetest and most unconventional love stories ever made. Much of the earlier humor arises from Harold's outrageous suicide fantasies, played out as a kind of twisted parlor game to mortify his mother, who's grown immune to her strange son's antics. Gradually, however, the film's clever humor shifts to a brighter outlook and finally arrives at a point where Harold is truly happy to be alive. Featuring soundtrack songs by Cat Stevens, this comedy certainly won't appeal to all tastes (it was a box-office flop when first released), but if you're on its quirky wavelength, it might just strike you as one of the funniest movies you've ever seen.
--Jeff Shannon (Amazon.com)
Votes: 3
Points: 35
Voters: martha (25), Goat Boy (5), kath (5)
96
The Searchers
(1956)
Directed by John Ford
Synopsis: A favorite film of some of the world's greatest filmmakers, including Martin Scorsese and Steven Spielberg, John Ford's The Searchers has earned its place in the legacy of great American films for a variety of reasons. Perhaps most notably, it's the definitive role for John Wayne as an icon of the classic Western--the hero (or antihero) who must stand alone according to the unwritten code of the West. The story takes place in Texas in 1868; Wayne plays Ethan Edwards, a Confederate veteran who visits his brother and sister-in-law at their ranch and is horrified when they are killed by marauding Comanches. Ethan's search for a surviving niece (played by young Natalie Wood) becomes an all-consuming obsession. With the help of a family friend (Jeffrey Hunter) who is himself part Cherokee, Ethan hits the trail on a five-year quest for revenge. At the peak of his masterful talent, director Ford crafts this classic tale as an embittered examination of racism and blind hatred, provoking Wayne to give one of the best performances of his career.
--Jeff Shannon (Amazon.com)
Votes: 4
Points: 11
Voters: GoogaMooga (5), Ghost of Harry Smith (2), Rocky Bronzino (3), Brer Baron (1)
95
Butch Cassidy and the Sundance Kid
(1969)
Directed by George Roy Hill
Synopsis: Paul Newman and Robert Redford set the standard for the "buddy film" with this box office smash set in the Old West. The Sundance Kid (Redford) is the frontier's fastest gun. His sidekick, Butch Cassidy (Newman), is always dreaming up new ways to get rich fast. If only they could blow open a baggage car without also blowing up the money-filled safe inside... Or remember that Sundance can't swim before they escape a posse by leaping off a cliff into rushing rapids... Times are changing in the west and life is getting tougher. So Butch and Sundance pack their guns, don new duds, and, with Sundance's girlfriend (Katharine Ross), head down to Bolivia. Never mind that they don't speak Spanish - they'll manage somehow. A winner of four Academy Awards (including best screenplay and best song), here is a thoroughly enjoyable blend of fact and fancy done with true affection for a bygone era and featuring the two flashiest, friendliest funniest outlaws who ever called out "hands up!"
--DVD description
Votes: 4
Points: 12
Voters: martha (2), Thesiger (2), Fangedango! (5), PENK (3)
93=
Eternal Sunshine of the Spotless Mind
(2004)
Directed by Michel Gondry
Synopsis: Screenwriters rarely develop a distinctive voice that can be recognized from movie to movie, but the ornate imagination of Charlie Kaufman (Being John Malkovich, Adaptation) has made him a unique and much-needed cinematic presence. In Eternal Sunshine of the Spotless Mind, a guy decides to have the memories of his ex-girlfriend erased after she's had him erased from her own memory--but midway through the procedure, he changes his mind and struggles to hang on to their experiences together. In other hands, the premise of memory-erasing would become a trashy science-fiction thriller; Kaufman, along with director Michel Gondry, spins this idea into a funny, sad, structurally complex, and simply enthralling love story that juggles morality, identity, and heartbreak with confident skill.
--Bret Fetzer (Amazon.com)
Votes: 4
Points: 14
Voters: Ghost of Harry Smith (4), geoffcowgill (5), rock the kaspar (2), Rocky Bronzino (3)
93=
The Hustler
(1961)
Directed by Robert Rossen
Synopsis: Paul Newman shines as cocky poolroom hustler "Fast" Eddie Felson in Robert Rossen's atmospheric adaptation of the Walter Tevis novel. Newman's Felson is a swaggering pool shark punk who takes on the king of the poolroom, Minnesota Fats (a cool, assured Jackie Gleason in his most understated performance). After losing big and crashing into a void of self-pity, Eddie meets down-and-out Sarah (Piper Laurie in a delicate performance), an alcoholic blue blood who's dropped into Eddie's world of dingy bars and seedy poolrooms. Eddie regains his confidence and attracts the attention of a shifty, calculating promoter, Bert Gordon (George C. Scott at his most heartless), who offers to bring Eddie into the big money--but at what cost? Rossen brings his film to life with the easy pace of a pool game, giving his actors room to explore their characters and develop into a razor-sharp ensemble. Eugen Schüfftan earned an Academy Award for his shadowing black-and-white cinematography, as did art directors Harry Horner and Gene Callahan for their deceivingly simple set designs. Even in the daylight this film seems to be smothered by night, lit by the dim glow of a bar lamp or the overhead glare of a pool-table light, an appropriate environment for this tale of one man's struggle with his soul and his self-esteem.
--Sean Axmaker (Amazon.com)
Votes: 4
Points: 14
Voters: mentalist (slight return) (5), rock the kaspar (2), The RightGraduate Profile (3), whodathunkit (4)
89=
The Usual Suspects
(1995)
Directed by Bryan Singer
Synopsis: Following a truck hijack in New York, five conmen are arrested and brought together for questioning. As none of them is guilty, they plan a revenge operation against the police. The operation goes well, but then the influence of a legendary mastermind criminal called Keyser Söze is felt. It becomes clear that each one of them has wronged Söze at some point and must pay back now. The payback job leaves 27 men dead in a boat explosion, but the real question arises now: Who actually is Keyser Söze?
--Soumitra (IMDb.com)
Votes: 4
Points: 15
Voters: Polishgirl (5), BlueMeanie (6), the masked man (2), rock the kaspar (2)
89=
Trainspotting
(1996)
Directed by Danny Boyle
Synopsis: A wild, freeform, Rabelaisian trip through the darkest recesses of Edinburgh low-life, focusing on Mark Renton and his attempt to give up his heroin habit, and how the latter affects his relationship with family and friends: Sean Connery wannabe Sick Boy, dimbulb Spud, psycho Begbie, 14-year-old girlfriend Diane, and clean-cut athlete Tommy, who's never touched drugs but can't help being curious about them...
--Michael Brooke (IMDb.com)
Votes: 4
Points: 15
Voters: martha (2), BlueMeanie (3), the masked man (4), The RightGraduate Profile (6)
89=
Aguirre, der Zorn Gottes [Aguirre, The Wrath of God]
(1972)
Directed by Werner Herzog
Synopsis: Quite simply a great movie, one whose implacable portrait of ruthless greed and insane ambition becomes more pertinent every year. The astonishing Klaus Kinski plays Don Lope de Aguirre, a brutal conquistador who leads his soldiers into the Amazon jungle in an obsessive quest for gold. The story is of the expedition's relentless degeneration into brutality and despair, but the movie is much more than its plot. Director Werner Herzog strove, whenever possible, to replicate the historical circumstances of the conquistadors, and the sheer human effort of traveling through the dense mountains and valleys of Brazil in armor creates a palpable sense of struggle and derangement. This sense of reality, combined with Kinski's intensely furious performance, makes
Aguirre, the Wrath of God
a riveting film. Its unique emotional power is matched only by other Herzog-Kinski collaborations like
Fitzcarraldo
and
Woyzek
.
--Bret Fetzer (Amazon.com)
Votes: 4
Points: 15
Voters: Algroth (2), Snarfyguy (5), Goat Boy (5), The RightGraduate Profile (3)
89=
If....
(1968)
Directed by Lindsay Anderson
Synopsis: In an indictment of the British Boys School, we follow Mick and his mostly younger friends through a series of indignities and occasionally abuse as any fond feelings toward these schools are destroyed.
--John Vogel (IMDb.com)
If….
, directed by Lindsay Anderson (
This Sporting Life
), is a daringly chaotic vision of British society, set in a boarding school in late-sixties England. Before Kubrick made his mischief iconic in
A Clockwork Orange
, Malcolm McDowell made a hell of an impression as the insouciant Mick Travis, who, along with his school chums, trumps authority at every turn, finally emerging as a violent savior against the vicious games of one-upmanship played by both students and masters. Mixing color and black and white as audaciously as it mixes fantasy and reality, [/i]If….[/i] remains one of cinema's most unforgettable rebel yells.
--Criterion Collection
Votes: 4
Points: 15
Voters: Algroth (1), Thesiger (8), TopCat G (3), The RightGraduate Profile (3)
87=
The Lord of the Rings: The Return of the King
(2003)
Directed by Peter Jackson
Synopsis: Gondor is overrun by the orcs of Mordor, and Gandalf rides to Minas Tirith to aid the humans in the war that is ahead. Aragorn must realize his true identity and purpose as the King of Men, and journey with Gimli and Legolas to summon the Army of the Dead so that the battle against evil can be won. Meanwhile, paranoia and suspicion rises between Frodo, Sam and Gollum as they continue their increasingly dark and dangerous travel to Mount Doom, the one place where The Ring can be destroyed once and for all.
--Qrrbirbel (IMDb.com)
Votes: 4
Points: 16
Voters: Polishgirl (5), martha (1), kath (5), Fangedango! (5)
87=
The Shawshank Redemption
(1994)
Directed by Frank Darabont
Synopsis: When this popular prison drama was released in 1994, some critics complained that the movie was too long (142 minutes) to sustain its story. Those complaints miss the point, because the passage of time is crucial to this story about patience, the squeaky wheels of justice, and the growth of a life-long friendship. Only when the film reaches its final, emotionally satisfying scene do you fully understand why writer-director Frank Darabont (adapting a novella by Stephen King) allows the story to unfold at its necessary pace, and the effect is dramatically rewarding. Tim Robbins plays a banker named Andy who's sent to Shawshank Prison on a murder charge, but as he gets to know a life-term prisoner named Red (Morgan Freeman), we realize there's reason to believe the banker's crime was justifiable. We also realize that Andy's calm, quiet exterior hides a great reserve of patience and fortitude, and Red comes to admire this mild-mannered man who first struck him as weak and unfit for prison life. So it is that The Shawshank Redemption builds considerable impact as a prison drama that defies the conventions of the genre (violence, brutality, riots) to illustrate its theme of faith, friendship, and survival. Nominated for seven Academy Awards including Best Picture, Actor, and Screenplay, it's a remarkable film that signaled the arrival of a promising new filmmaker - a film that many movie lovers count among their all-time favorites.
--Jeff Shannon (Amazon.com)
Votes: 4
Points: 16
Voters: beenieman (5), rock the kaspar (3), Fangedango! (5), Rocky Bronzino (3)
86
The Deer Hunter
(1978)
Directed by Michael Cimino
Synopsis: Michael, Steven and Nick are young factory workers from Pennsylvania who enlist into the Army to fight in Vietnam. Before they go, Steven marries the pregnant Angela and their wedding-party is also the men's farewell party. After some time and many horrors the three friends fall in the hands of the Vietcong and are brought to a prison camp in which they are forced to play Russian roulette against each other. Michael makes it possible for them to escape, but they soon get separated again.
--Leon Walters (IMDb.com)
Votes: 4
Points: 17
Voters: beenieman (2), Davey Avon FatBoy (4), whodathunkit (8), PENK (3)
84=
Il conformista [The Conformist]
(1970)
Directed by Bernardo Bertolucci
Synopsis: With The Conformist, Bernardo Bertolucci delivered one of his signature masterworks and joined the ranks of world-class directors. Based on the acclaimed novel by Alberto Moravia (who greatly admired Bertolucci's adaptation), this milestone of cinematic style concerns one of Bertolucci's dominant themes--the duality of sexual and political conflict--in telling the story of Marcello (Jean-Louis Trintignant), a 30-year-old Italian haunted by the memory of a sexually traumatic childhood experience. As an adult with repressed homosexual desires, Marcello wants nothing more than to conform to the upper-crust expectations of Italian society, so he marries the dim-witted, petit-bourgeois Giulia (Stefania Sandrelli), and willfully joins the Italian Fascist movement, traveling from Rome to Paris with an assignment to assassinate his former academic mentor, Prof. Quadri (Enzo Tarascio). As he grows attracted to Quadri's bisexual wife Anna (Dominique Sanda), who is in turn attracted to Giulia, Marcello's path of duplicity parallels that of Mussolini's inevitable downfall. He's on an irreversible course of self-destruction, on which his troubled past and morally corrupted present will collide in a soul-crushing heap of personal contradictions.
--Jeff Shannon (Amazon.com)
Votes: 4
Points: 18
Voters: Snarfyguy (5), Goat Boy (5), The RightGraduate Profile (3), Sgt Pepper (5)
84=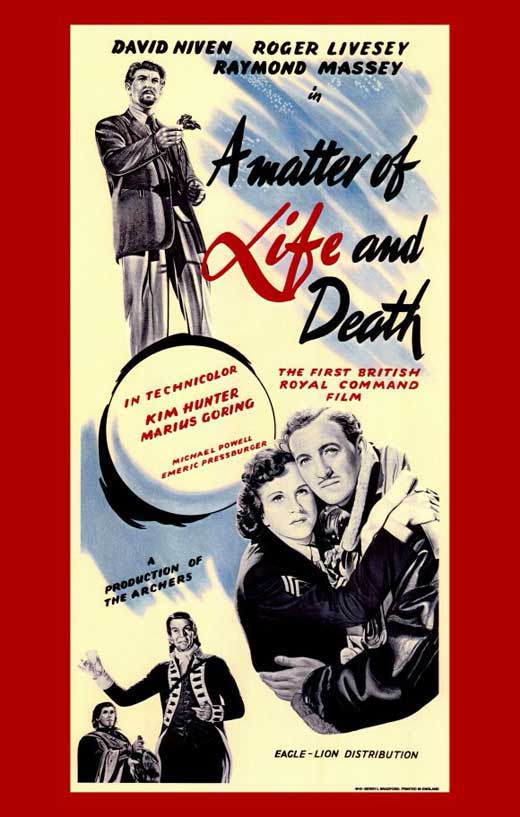 A Matter of Life and Death
(1946)
Directed by Michael Powell and Emeric Pressburger
Synopsis: Briefed by the Ministry of Information to make a film that would foster Anglo-American relations in the post-war period, innovative filmmakers Michael Powell and Emeric Pressburger came up with A Matter of Life and Death, an extravagant and extraordinary fantasy in which David Niven stars as a downed pilot who must justify his continuing existence to a heavenly panel because he has made the mistake of falling in love with an American girl (Kim Hunter) when he really should have been dead. National stereotypes are lampooned as the angelic judges squabble over his fate. In a neat reversal of expectations, the Heaven sequences are black and white, while Earth is seen in Technicolor. Daring cinematography mixes monochrome and color, incorporates time-lapse images, and even toys with background "time freezes" 50 years before
The Matrix
. Roger Livesey and Raymond Massey lead the fine supporting cast. This is one of the undoubted jewels of British cinema.
--Mark Walker (Amazon.com)
Votes: 4
Points: 18
Voters: Ghost of Harry Smith (8), TopCat G (3), geoffcowgill (2), Sgt Pepper (5)
81=
Kind Hearts and Coronets
(1949)
Directed by Robert Hamer
Synopsis: Set in Victorian England, Robert Hamer's 1949 masterpiece
Kind Hearts and Coronets
remains the most gracefully mordant of the Ealing comedies. Dennis Price plays Louis D'Ascoyne, the would-be Duke of Chalfont whose mother was spurned by her noble family for marrying an Italian singer for love. Louis resolves to avenge his mother by murdering the relatives ahead of him in line for the dukedom, all of whom are played by Alec Guinness. Guinness's virtuoso performances have been justly celebrated, ranging from a youthful D'Ascoyne with a priggish wife to a brace of doomed uncles and one aunt. Miles Malleson is a splendid doggerel-spouting hangman, while Valerie Hobson and Joan Greenwood take advantage of unusually strong female roles. But the great joy of
Kind Hearts and Coronets
is the way in which its appallingly black subject matter (considered beyond the pale by many critics at the time) is conveyed in such elegantly ironic turns of phrase by Price's narrator/antihero. Serial murder has never been conducted with such exquisite manners and discreet charm.
--David Stubbs (Amazon.com)
Votes: 4
Points: 19
Voters: All mimsy (5), whodathunkit (5), Owen (4), Sgt Pepper (5)
81=
Memento
(2000)
Directed by Christopher Nolan
Synopsis: Leonard is an insurance investigator whose memory has been damaged following a head injury he sustained after intervening on his wife's murder. His quality of life has been severely hampered after this event, and he can now only live a comprehendable life by tattooing notes on himself and taking pictures of things with a Polaroid camera. The movie is told in forward flashes of events that are to come that compensate for his unreliable memory, during which he has liaisons with various complex characters. Leonard badly wants revenge for his wife's murder, but, as numerous characters explain, there may be little point if he won't remember it in order to provide closure for him. The movie veers between these future occurrences and a telephone conversation Leonard is having in his motel room in which he compares his current state to that of a client whose claim he once dealt with.
--T. Graham (Imdb.com)
Votes: 4
Points: 19
Voters: Polishgirl (5), Ghost of Harry Smith (6), the masked man (5), Rocky Bronzino (3)
81=
Persona
(1966)
Directed by Ingmar Bergman
Synopsis: With some of the most iconic imagery ever committed to film, this exceptionally beautiful specimenof movie-making (The New Yorker) is recognized as a modern masterpiece and a landmark in late twentieth-century art (Time Out London). Actress Elisabet Vogler (Liv Ullmann) has stopped speaking and withdrawn completely. Under doctor's orders, she's taken to a remote seaside cottage by a nurse, Alma (Bibi Andersson). Alma chats to fill the silence and gradually begins to lay bare her entire identity until she discovers it is being coolly sucked away from her. As the women battle for control and sanity, the question becomes not which of them is patient and which is caregiver, but are they two separate women at all?
--DVD description
Votes: 4
Points: 19
Voters: Algroth (4), Goat Boy (5), the masked man (6), Brer Baron (4)
76=
The Conversation
(1974)
Directed by Francis Ford Coppola
Synopsis: Francis Ford Coppola's provoking mystery-thriller stars Gene Hackman as Harry Caul, an expert surveillance man. A routine wiretapping job turns into a nightmare when Harry hears something disturbing in his recording of a young couple in a park. His investigation of the tape and how it might be used sends Harry spiraling into a web of secrecy, murder and paranoia. Set against the backdrop of San Francisco, THE CONVERSATION is a harrowing psychological thriller that costars Cindy Williams, Frederic Forrest and Harrison Ford and symbolizes the uneasy line where technology and privacy cross.
--Amazon.com
Votes: 4
Points: 20
Voters: Snarfyguy (5), Ghost of Harry Smith (8), the masked man (4), The RightGraduate Profile (3)
76=
The Grapes of Wrath
(1940)
Directed by John Ford
Synopsis: Ranking No. 21 on the American Film Institute's list of the 100 greatest American films, this 1940 classic is a bit dated in its noble sentimentality, but it remains a luminous example of Hollywood classicism from the peerless director of mythic Americana, John Ford. Adapted by Nunnally Johnson from John Steinbeck's classic novel, the film tells a simple story about Oklahoma farmers leaving the depression-era dustbowl for the promised land of California, but it's the story's emotional resonance and theme of human perseverance that makes the movie so richly and timelessly rewarding. It's all about the humble Joad family's cross-country trek to escape the economic devastation of their ruined farmland, beginning when Tom Joad (Henry Fonda) returns from a four-year prison term to discover that his family home is empty. He's reunited with his family just as they're setting out for the westbound journey, and thus begins an odyssey of saddening losses and strengthening hopes. As Ma Joad, Oscar-winner Jane Darwell is the embodiment of one of America's greatest social tragedies and the "Okie" spirit of pressing forward against all odds (as she says, "because we're the people"). A documentary-styled production for which Ford and cinematographer Gregg Toland demanded painstaking authenticity, The Grapes of Wrath is much more than a classy, old-fashioned history lesson. With dialogue and scenes that rank among the most moving and memorable ever filmed, it's a classic among classics--simply put, one of the finest films ever made.
--Jeff Shannon (amazon.com)
Votes: 4
Points: 20
Voters: mentalist (slight return) (5), geoffcowgill (6), All mimsy (5), Davey Avon FatBoy (4)
76=
Raging Bull
(1980)
Directed by Martin Scorsese
Synopsis: Martin Scorsese's brutal black-and-white biography of self-destructive boxer Jake LaMotta was chosen as the best film of the 1980s in a major critics' poll at the end of the decade, and it's a knockout piece of filmmaking. Robert De Niro plays LaMotta (famously putting on 50 pounds for the later scenes), a man tormented by demons he doesn't understand and prone to uncontrollably violent temper tantrums and fits of irrational jealousy. He marries a striking young blond (Cathy Moriarty), his sexual ideal, and then terrorizes her with never-ending accusations of infidelity. Jake is as frightening as he is pathetic, unable to control or comprehend the baser instincts that periodically, and without warning, turn him into the rampaging beast of the title. But as Roman Catholic Scorsese sees it, he works off his sins in the boxing ring, where his greatest athletic talent is his ability to withstand punishment. The fight scenes are astounding; they're like barbaric ritual dance numbers. Images smash into one another--a flashbulb, a spray of sweat, a fist, a geyser of blood--until
you
feel dazed from the pummeling. Nominated for a handful of Academy Awards (including best picture and director), Raging Bull won only two, for De Niro and for editor Thelma Schoonmacher.
--Jim Emerson (Amazon.com)
Votes: 4
Points: 20
Voters: Ghost of Harry Smith (2), geoffcowgill (8), whodathunkit (5), Fangedango! (5)
76=
Metropolis
(1927)
Directed by Fritz Lang
Synopsis: Sometime in the future, the city of Metropolis is home to a Utopian society where its wealthy residents live a carefree life. One of those is Freder Fredersen. One day, he spots a beautiful woman with a group of children, she and the children who quickly disappear. Trying to follow her, he, oblivious to such, is horrified to find an underground world of workers, apparently who run the machinery which keeps the above ground Utopian world functioning. One of the few people above ground who knows about the world below is Freder's father, Joh Fredersen, who is the founder and master of Metropolis. Freder learns that the woman is Maria, who espouses the need to join the "hands" - the workers - to the "head" - those in power above - by a mediator or the "heart". Freder wants to help the plight of the workers in the want for a better life. But when Joh learns of what Maria is espousing and that Freder is joining their cause, Joh, with the assistance of an old colleague and now nemesis named Rotwang, an inventor, works toward quashing a supposed uprising, with Maria as the center of their plan. However, Joh is unaware that Rotwang has his own agenda. But if any of these plans includes the shut down of the machines, total anarchy could break loose both above ground and below.
--Huggo (IMDb.com)
Votes: 4
Points: 20
Voters: Snarfyguy (5), meetthesonics (5), kath (5), PENK (5)
76=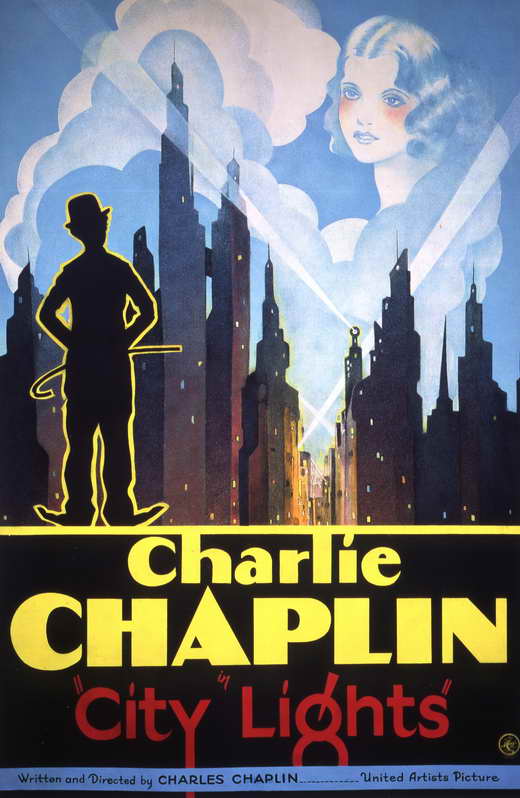 City Lights
(1931)
Directed by Charles Chaplin
Synopsis: A little tramp living in the big city has a profound effect on two people he meets. The first is a wealthy man, who the tramp saves from killing himself during the wealthy man's drunken stupor. However, the relationship between the wealthy man and the tramp continually changes depending on the drunken or sober state of the wealthy man. The second is a poor blind flower girl, who lives with her destitute grandmother. The kindness of the tramp toward her makes her fall in love with him, as he is with her. By circumstance, she believes that he is a wealthy man. When he learns that an expensive operation can restore her eyesight, the tramp does whatever he can to earn the money to pay for the operation, even if the result is that she will find out that he is not the wealthy man she believes and which by association may make her change her blind opinion of him.
--Huggo (IMDb.com)
Votes: 4
Points: 20
Voters: meetthesonics (5), GoogaMooga (5), The RightGraduate Profile (3), toomanyhatz (7)