Have we ever really had a Doug Sahm thread? Great Tex-Mex stuff starting in the mid '60s and progressing right through the '80s. I'm not familiar with the Quintet's work after the early '70s (as chronicled on Hip O Select's fine box set) but I'll start us off with the albums I
do
know:
Honkey Blues
1968
They'd recorded easily enough material in the form of singles and what not for an album prior to this but
Honkey Blues
is the first LP proper. It's not bad but not really what it should have been either. The band was living in the Bay Area at this point, Sahm trying his hand at being a Hippie in Northern California and not his beloved Texas. I recommend "Are In-Laws Really Outlaws" and one or two more but on the whole, the album's jazzy leanings and slight psychedelic feel don't really suit the boys.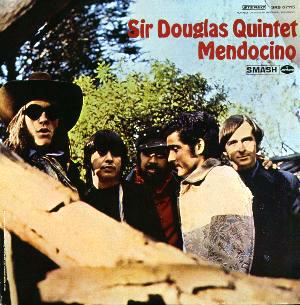 Mendocino
1969
Easily my favorite Sir Douglas Quintet record. Virtually every song a gem and the perfect Texan-transplant-in-the-Bay-Area album. The title track was (along with the earlier version of "She's About a Mover") their only top 40 hit, and the album also contains "I Wanna Be Your Mama Again," "At The Crossroads," "And It Didn't Even Bring Me Down," and "Texas Me." Paul Gambaccini had this listed in his
Top 200 Best Albums
book over thirty years ago and that's when I first became aware of it. Make this your first purchase.
Auggie Meyer rules, fools!
Together After Five
1970
Almost as good. Again, Meyers plays up a storm (did a cheap farfisa ever sound so good?) and the songs almost match up to those on
Mendocino
. "Nuevo Laredo" may be a soundalike to "Mendocino" but that doesn't mean it's not awesome, "T-Bone Shuffle" and "I Don't Want to Go Home" are ace and the rest of the LP flies along at an even clip until it's over. Get the version with bonus tracks as the stellar "Dynamite Woman" 45 is included. One of their all-time best cuts.
1+1+1=4
(1970)
Another good one and their second of the year. Sahm was showing no signs of stopping as he cranked out these tracks (some of them recorded in Nashville) in search of the success which would always elude him. While not quite as good as the previous two it still had "Yesterday Got in the Way," "Be Real," "Pretty Flower," and "What About Tomorrow." Great album cover too.
The Return of Doug Saldana
(1971)
And return he did, to greatness, that is. Probably his best album after
Mendocino
(some say his best, period), the LP offers nary a weak cut and is a perfect blend of the Tex-Mex/blues/rock 'n' roll post hippie gumbo that was the music of Doug Sahm. In fact -- there's not too much of the organ-driven madness of earlier records here, just classic Doug all the way. "Preach What You Live, Live What You Preach" and "Stoned Faces Don't Lie" are the highlights for me, but there's also "She Huggin You, But She's Lookin' At Me" and a few more which are almost as good. The CD with bonus tracks adds the great "Michoacan," making it a must own.
After this there was an LP of odds and ends called
Rough Edges
(credited to Sahm only) which contains some of the bonus cuts on CDs I mentioned above. It's also worth tracking down but all of it is on the Hip O Select box (which I
really
recommend).