Posts: 3668
Joined: 14 Nov 2014, 08:05
Give a shit or be a shit.
---
"Self Quoter" Extraordinaire.
Posts: 68453
Joined: 16 Jul 2003, 21:04
Location: High On Poachers Hill
One of my favourite solos. RIP Danny.


A society grows great when old men plant trees whose shade they know they shall never sit in.
Praise will come to those whose kindness leaves you without debt.
Only four, Mr President, and you don't have my vote.
---
Posts: 1643
Joined: 21 Aug 2003, 17:43
Location: Evidently Chickentown
Tom Robinson announced DK's death on his show on BBC 6 Music this afternoon.
Good choice above by DD.
Haven't heard that song for years but as soon as the track started playing the solo came back note for note in my head which is testimony to the memorability of the solo.
Some mother's talking 'bout Guns' n 'Roses
As if i give a fuck
At best i think they suck
---
Robust
Posts: 53562
Joined: 22 Jul 2003, 19:06
I've never heard of him but that is a nice solo

Very nice

RIP Danny




.
Deebank wrote:

Johnny Fartpants wrote:Bring back the tits!

They've got their own forum now.
---
Can I Get To Widnes?
Posts: 10004
Joined: 03 Sep 2003, 20:07
Location: facing the computer
Contact:
A very fine guitarist. Sad news. Expected a solid career after TRB slit, but it just didn't materialise.
---
Posts: 5
Joined: 30 Jun 2010, 23:47
Saw him with TRB several times in the late 1970s and always regarded him - along with John Perry of the Only Ones, Tom Verlaine of Television and John McGeoch of Magazine - as the supreme guitarist of the punk/new wave era.
---
Posts: 3668
Joined: 14 Nov 2014, 08:05
A NIGHT FOR DANNY KUSTOW
feat THE TOM ROBINSON BAND + very special guests
Scala, London - 29th July 2019
Tickets from --> bit.ly/anightfordanny
Danny Kustow - whose guitar playing was a key ingredient of the Tom Robinson Band hits Up Against The Wall, Don't Take No For an Answer and 2-4-6-8 Motorway - died unexpectedly at the age of 63 this year at the Royal United Hospitals in Bath after a short illness.
Danny's friends, family and former bandmates have organised a concert in his memory to take place at The Scala in London. "A Night For Danny Kustow" featuring the Tom Robinson Band plus special guests will take place on Monday July 29th. The lineup will include members of both the original and current TRB lineups, plus video footage of Danny playing on stage at his incendiary best.
Tom Robinson said: "Danny was one of the most gifted British guitarists of the entire punk generation. Four decades after the early TRB records he made with Mark Ambler, Dolphin Taylor and myself, his legacy is still remembered with warmth and wonder by fans around the world. This concert will be a chance for all of us to remember that legacy with huge affection and deep appreciation. His death has been devastating loss for everyone who knew him."
All profits from the show - plus a bucket collection afterwards - will be donated to the NHS Critical Care Unit in Bath which looked after Danny during his final days.
Give a shit or be a shit.
---
Self-Aggrandising Cock
Posts: 46829
Joined: 16 Jul 2003, 19:05
Location: I'm only here for the sneer
Contact:
I might go to that
The Complete Elton John Mp3 set now available in the usual place, should you want one.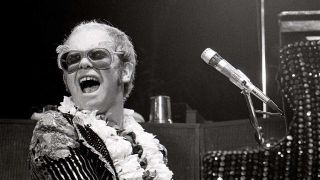 ---
---