Julian Cope:
What can you say? A man with heroic powers of self invention, a man who was obviously told by someone as a kid that he could be what ever he wanted to be and believed them.
Terms like Renaissance Man and Polymath don't often get bandied about pop stars without people falling off their chairs, but he is a real communicator of his passions whether they be unjustly forgotten pop stars and styles of music out of fashion or stone circles and eco-protest.
What ever he does he seems to do with 100% dedication and focus whether it be power walking around Staffordshire, investigating neolithic monuments or wearing dubious leather clothing. His changes of direction can seem baffling and capricious, but looking back there is a sort of magnificent arc to his story.
As a writer he has written two huge and handsome tomes on Megalithic sites in the UK and Europe and whist he may be a bit embarrassed by some of the crank theories he gave an airing to in them now they are still remarkable pieces of work. He was one of the leading re-popularisers of Krautrock with his book Krautrock Sampler and he has tried to do the same with Japrock. He has also written Copendium an anthology of his writing on underground rock music that he has published on his own website over the years:
https://www.headheritage.co.uk
He has written probably the greatest autobiographies by any rock star ever, not a wide field of excellence but his writing voice is impossibly engaging, funny and honest.
He was the driving force behind the release of a compilation of Scott Walker's music - Fire Escape in the Sky The Godlike Genius of Scott Walker - when it looked like he was drifting into irrelevance.
He was a presence, in the form of Sqwubbsy obviously, in the protests during the dog end years of Thatcherism.
And we still haven't talked about his musical legacy from Read It in Books with the Crucial Three to his latest albums.
It is easy enough to google up something should you wish to hear it and I can't believe anyone who is reading this is unaware of his body of work. When I wanted to get a copy of Fried in the mid 80s I had to travel to London and spend a stupid amount of money on a white label copy without a sleeve, money well spent. Now all you need to do is get ye to You Tube.
He became a pop star by accident and shrugged it off. Many of us will be able to remember how he escaped from queasy clutches of Smash Hits trying to make him a teeny bop heart throb.
He did one of the best gigs I have ever seen in the early 90s 2 hours plus of glorious music and Mellotrons. He is a great live performer because he is simply unbelievably comfortable and charismatic on stage.
Commanding Glastonbury from Yggdrasil his home made mike stand that he could climb up.
Having honey licked off his chest at the Queen's hall in Edinburgh
Striding into the crowd in Shephard's Bush in 2000 to eject a heckler and give him his money back.
There was an interview with him in Guardian late last year where he was pictured thusly: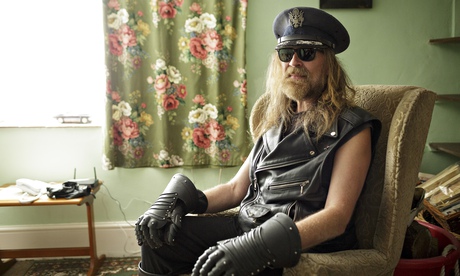 This occasioned some ribald comments about wearing his stage gear in such incongruous surroundings until someone commented that they had seen him filling up the family car in Marlborough the week before dressed exactly the same gear. Total commitment to being Julian Cope at all times.
What a Drude!
1986
2014