(the curtain opens to reveal clouds of billowing black smoke. could it be a darkling plain, swept with confused alarms of struggle and flight, where ignorant armies clash by night? are the kings of beasts now counting their days?)
... fucquin smoke alarm. (she tries to knock it off the kitchen ceiling with a broom handle. kills the burner on the stove.)
cmon now. no need for high drama in these days of auto-tuned invertebrates and navel-gazing peachfuzz. no call for glammy metal or varied songcraft in a sea of milky sameness. no strange, shiny, horned outlanders allowed in three-chord-city.
forget the world. BCB itself is a kinder, fuzzier board. there really is no place here for violence or my multiple personalities to act out any longer. it is more important to stick to the true cause: to win over converts in seemly fashion rather than to draw blood just becuz it's fun. of course.
(she takes a few swigs of coffee, then straps on her armor, piece by piece. makes the sign of the cross as she looks skyward.)
okayyy, you bickering buncha bitches. BRING. IT. ON.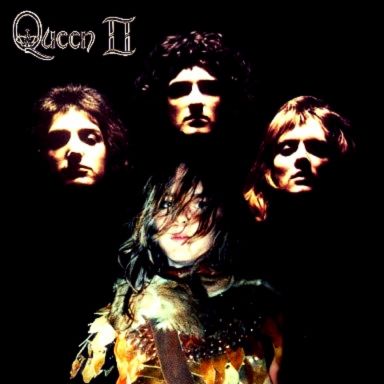 ya know what pisses me right the fucque off? i get it when people don't dig classic rock. (kinda. infidels.) i get it all the more if they can't take bombast, flamboyance, in-yer-face personality, over-the-topness, the occasional broadway show tune. what bothers me: a band with such talent and such range getting reduced regularly to some version of amps in drag or stadium filler.
freddie himself was a polarizing figure. it sounds oh so stereotypical now to say that, back in the 70s, some of the guys i knew just couldn't handle freddie and his freddieisms. they could take campy in kiss or alice cooper. but freddie was another beastie entirely, a unique, exotic creature. actually, just the name
queen
was enough for some to merit all-american heteroid ewwww.
happily, those types were far outnumbered by the people who were going, "oh, fucque man, listen to
this
!!" that was my brother's attitude, when he first handed me his queen albums. queen's music was an ear-stretching experience. as overplayed as a track like bohemian rhapsody is, it was a mind-blower to hear on radio at the time. just think about it for a minute. how could such a thing get airtime in the first place, let alone become so hugely popular, culturally iconic?? a miracle, really. a kind of... magic.
but never mind all that. the point is the music, the variety. the tracks that didn't get much radio time.
converts in waiting: try this one, from start to finish. (she asks with gooey eyes and a smile.)
... how was that, with its wispy, bittersweet self?
or maybe this one:
how about some taylor-made sway?
... a lil chronicle of may?
(she scans the room, the smile disappearing. her eyes flip to blood red. cue smoke rings and dust.)
uh huh.
oh nooo. i will keep control. maybe just a lil trip to the amusement park, hmmm?
(the above, one of two songs i play whenever i want an immediate dose of cranked up, gweetarred... self-motivation. the other, purple's flight of the rat. it's called
therapy
, people.)
hmm. maybe i need to find a middle ground. more of yer basic (though queen overlaid) ass-shakers.
.. oops. getting carried away.
ya know what? fucque middle ground. i want that epic sound.
sumthin tells me i'm losing my way. i hate when that happens.
maybe i need to let other queen fans provide balance. maybe others should carry the flag into the 80s. after all, the band had many luvly, catchy hits during that decade. sometimes, it is wise to lay down one's sword if the war seems futile or the battle pointless. one could always take up embroidering. mind ya, i still don't have the live at the rainbow stuff. no, i do not.
gotdammit
.
after further contemplation, i realize that this whole process has been very cathartic for me. i feel like i've worked out so many issyews and found a brand of peace with my many inner selves.
well, whaddya expect from an opera, a happy ending?
... the ending is the least important part, fucquers.