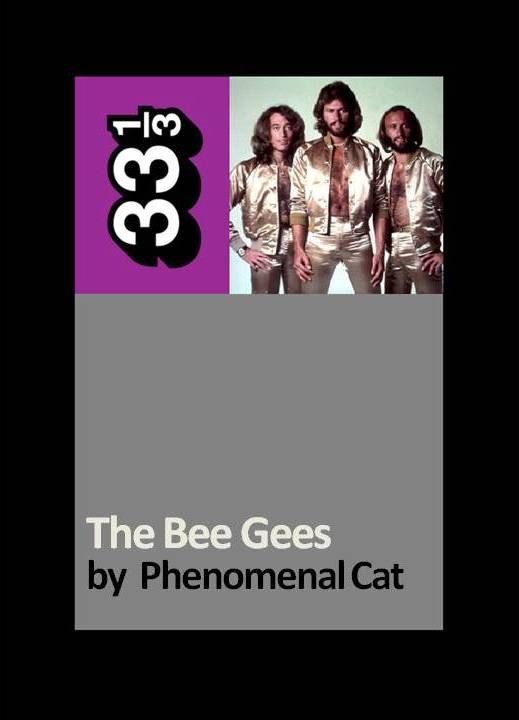 Word went out around my elementary school that The Bee Gees would be playing in Chicago, and better yet, the whole concert was going to be televised on Channel 11. I was born in 1970, so as far as cultural milestones go (
Star Wars
, Punk Rock, Disco, AM radio,
Saturday Night Live
, Burt, Farrah), I kind of lucked out. Without the taint of cynicism, I could view these developments without jaded eyes. It was 1978. The Bee Gees on free TV. And so they were.
It was remarkable. But remarkable only in that my parents let me stay up past my regular bedtime. The Bee Gees, on the other hand, looked like gas station workers. They sang songs I'd never heard. They barely moved. See a snapshot for yourself: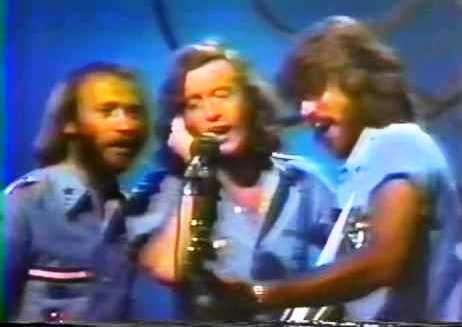 Only later did I learn that the performance was actually from 1975. Three years is an eternity in the realm of popular music. Man, were they popular in 1978, though. In my eyes, their little brother, Andy (which is my name, too) wasn't just desirable by proxy – he was the
main attraction
. My initial disappointment over the
Soundstage
show of 1975 was chiefly that. No Andy. Just three aging men with guitars. The ugly one kept sticking his finger in his ear. What brought them to this sad state?
Let's delve back. The Bee Gees tale is well known: Robert Stigwood discovers the pre-teens busking outside a Wimpy Bar somewhere within the Isle of Man. At first believing the Manx pedigree saleable, he shops the group around to various London labels as a new breed of smiling, blue-eyed anarchists intent on world domination via pop nous and handsome hair. With nary a bite, he changes the group's locale to Austria and the Barry Gibb Four becomes the Black Guard. Stig wanted danger and excitement. He wanted to shake things up. He wanted to make money. For Maurice, Robin, Barry, and older sister Leslie, it wasn't a matter of success arriving, but how quickly. It was 1963, and they weren't even close. Barry had just turned 17 and already had actively cajoled Stiggy for a shot at solo stardom. He had a number of titles ready to go: "Words", "Horizontal", "Idea", "Spicks", "World", "Chest" – but his manager had other plans. He needed a
group
.
With sales of boomerangs, pocket knives and a fantastic new delicacy known as "seafood" taking central London by storm, 1964 began with Stiggy recasting the group as a fantastic new breed of prepubescent
Australians
. 19-year-old Leslie walked out of rehearsals in disgust for what would be a marathon filming sessions of purported "Australian television performances" designed to entice the British public into engaging this new Aussie phenomenon. Child actors were hired to play many roles (including a young Phil Collins as "young Maurice #2"), but the songs were pure Barry, Moe, and Robin. Like the Beatles in Hamburg, this was an excellent education for Black Guard – writing under duress with a rogue crew of non-union camera operators scowling and supping scrumpy, the boys became expert mimics and even wrote some serviceable tunes. Stig only need get these primitive "music videos" to the offices of Pye, EMI, and the like and the back story of the "Aussie Sensations" would do the rest. The newly-anointed "B.G.s" – Moe, Stig, Robin and Barry, eyed 1965 with barely concealed glee. Stig, believing the British alphabet to contain confusing letters such as "Bed", "Ged", "Ped" and "Zed", elected to bill it phonetically – The Bee Gees. They then sat in the Trojan Horse until 1967.
"Squeeze My Lemons – You'll Never Regret It".
Man, did they deliver with those early albums. The first two,
1st
and
Horizontal
, were certainly products of their time but this was an odd bunch from the get-go (witness "Every Christian Lion Hearted Man" for starters). The two years of furiously composing camera fodder had honed Barry's skills beyond the mere aping of chart trends. Honestly, I'm not sure who wrote what and assume that (like The Beatles) whoever sings it likely wrote it. Barry is simply sublime on "Words" and "Lemons Never Forget", and while Robin's shitting-dog delivery does take some getting used to, "Holiday" and "Massachusetts" are stone-classics. Maurice's bass work on "Gotta Get a Message to You" deserves special mention, as it's pretty special. I'm sure he did a lot of other stuff, too. Stig brought in two desperate, green backwoods hicks, Colin (blonde) and Vince (not), from the Black Country. They had chops, tunes, and like the Gibbs, an odd sense of humo(u)r. The band was ready to tour.
"I realized what The Bee Gees were about around the end of our first U.S. tour. We started off not even on the bill in Denver, and by the time we got to New York we were second to Edison Lighthouse, and they didn't want to go on!"
By
Odessa
, the frequency of chart hits and the ubiquitous televised teeth led many to wonder just how they did it. Did "To Love Somebody" not sound like a long-lost Otis Redding track? Wasn't "Melody Fair" every bit as good as THE BEATLES? Could The Bee Gees have recorded over twenty long-players for their Australian brethren before 1967? Were they genetically-engineered uber-stars? And why all the hype? By 1968, the accusations flooded in from, ironically, Australia, a country they'd never even visited, by artists as varied as Smoky Dawson, Geoffrey Gurrumul, Wolfman Kngwarreye, Banjo Hogan, Shoog Warcup Cornforth, Sir Doogie Cattlemaw, Evonne Goolagong Cawley, Rupert Pratt, Deke Murdrous Ummi-Burger, Villiam Bludger, Sheila Tingle, and even footballer Baz Bushcock, who claimed that "New York Mining Disaster" was "autobiographical." While many Aussie chancers enjoyed their day in court (some even enjoying their own recording careers), The Bee Gees had little choice but to stop producing records and plan the second phase of their career. Even as they commandeered West Hollywood's "Riot House" for most of July 1969, with Maurice riding a motorcycle ("it's a
chopper
, baby") throughout the third floor and Barry standing atop its highest vantage crying out "
You Can Call Me King Bee!
" into the California sunshine, the Bee Gee's career was at a stand-still.
"Since conditions are in the present nigh irremediable mess, with innocent listeners led and hyped and duped and doped, taught to grovel before drug-addled effeminate Limeys who once collected blues 78s and a few guitar lessons and think that that makes them torch-bearers; a hapless public, finally, of tender boys and girls Pavlov'd into salivating greenbacks and stoking reds at the mere utterance of certain magic incantations like "supergroup" and "superstar," well, is it any wonder your poor average kid, cruisin' addled down the street in vague pursuit of snatch or reds or rock mag newsstands, ain't got no truck with The Bee Gees?" – Lester Bangs
"Mellow is the man who knows what he's been missing"
The early 70s were not kind to The Bee Gees, which is ironic considering the rise of the singer-songwriter, and Barry in particular having written "Words", "First of May", "Lemons Never Forget", "Kilburn Towers" and "Birdie Told Me" – songs whose melodies wouldn't have sounded out of place on the AM radio waves next to the likes of Carole King, Todd Rundgren, Gordon Lightfoot, and of course Gilbert O'Sullivan (whose "Alone Again, Naturally" was a Bee Gees tune in all but name.) But I like early 70s Bee Gees (I really should watch that
Soundstage
performance now). "Lonely Days" and "How Can You Mend a Broken Heart" were the hits, but "Portrait of Louise", "Man For All Seasons", "Don't Wanna Live Inside Myself", "Walking Back to Waterloo", "Run to Me", and "Saw a New Morning" were certainly jibing with the times. Notable is late 1972's
Life in a Tin Can
, with its cover sporting the circular rotating design and the hedonistic call to "
Do What Thou Wilt
" carved in the dead wax, a nod to prodigious loverman Wilt Chamberlain. Ironically it was Stig, the man who'd signed and nurtured the group, who rejected the product of their 1973 sessions for
A Kick in the Head Is Worth Eight in the Pants
in favor of a fresh approach. Enter producer Arif Mardin.
"I believed that Barry was very into black magic and probably did a lot of rituals, black candles, bat's blood, fried chicken, the whole thing. I believed he did that stuff." – Pamela Des Barres
"Ultimately, I wanted The Bee Gees to be a marriage of blues, hard rock and acoustic music, topped with a shrill, almost comedically ridiculous voice -a combination that had never been done before. Lots of light and shade in the music. "How Black do we want this?" Arif would ask us. Of course, we'd happily reply "None more Black." They used to play us on Black radio stations all the time. I couldn't get enough of that old black magic. Sho 'nuff."
Mr. Natural
wasn't barnstorming but necessary – a transitional work. The Bee Gees incorporated elements of mythology and gynecology into their music, which largely grew out of Robin's interest in legends and concubines. These elements were often taken to reflect The Bee Gee's interest in the occult, which resulted in accusations that the recordings contained subliminal satanic messages; these claims were generally embraced by the band but dismissed by fans. Really, their songs were clearly about fucking. Anything and everything that moved. It was kinda obvious.
"Life is like a pair of panties. You never know what it hides."
While The Bee Gees had kept their artistic and songwriting integrity intact throughout a ten year music career, they weren't making any money. Mardin encouraged the boys to visit the U.S. and its east coast discos and the group immediately began to embrace that Philadelphia sound. Now, herein lies the major divide with many fans. Those who actually know about the 60s material take deep pleasure in the continued discoveries courtesy of reissues over the past few years. It's Phase One. But now we enter the cringe-or-karaoke years, the ubiquity and almost obscene level of acceptance. A band who had begun their career in an immediate flush of success was about to find that they were merely getting warmed up.
"(Barry) did keep whips coiled up in his suitcase on the road, but never attempted to use them on me. He definitely had a wicked sexual side, which made him a transcendent lover. Even when you were intimately involved with him, he held back, which made you want to delve into him even deeper. Robin liked to watch" - Audrey Meadows
The new album delivered far more than anyone could have hoped. From its celebration of the decadent, fast city life of NYC discos to its barely-concealed girl-in-a-coke-spoon cover graphic, it truly did appear at the time that all events past and present had converged into this singular triumph - the
Main Course
LP. Embraced almost immediately by both black and white radio, The Bee Gees were suddenly
back
. Barry began teeth-bleaching and exfoliating from head to toe at least six times a day and made libidinous boasts on Soul Train about conquering "
The Old Ladies
." Robin began to chase every Farrah, Cheryl, Linda, and Uggams through the tabloid pages in hapless pursuit of some public acceptance of his biological curse. Maurice collected fireworks and hats. They all drank obscene amounts of 110-year old single-malt whiskey from gold-plated flasks and seemed to live as if good fortune lurked around every corner. Incredibly, it did. But then so did the darkness.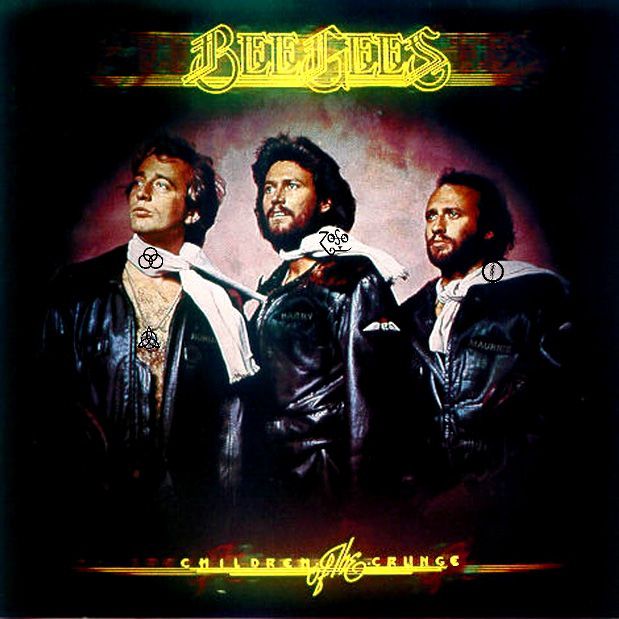 "Nobody hears a single word you say, but you keep on dancin' till your dying day."

"Saturday Night Fever was like a bolt out of the blue. It's like we never knew The Bee Gees and suddenly they were everywhere."
"No-one ever compared us to Black Sabbath after that record."
I certainly wouldn't recommend paying anything over a dollar for any post-
Mr. Natural
LP. These things sold in the millions, and among the hits they also contain some right crap. I could live a thousand lifetimes without ever hearing "Lovers" or "I'm Satisfied" again But MY GOD, when you look at this embarrassment of riches: "Jive Talkin'", "Nights on Broadway", "Fanny", "You Should Be Dancing", "Wind of Change", "Staying Alive", "More Than a Woman", "Spirits Have Flown", "Boogie Child", "Night Fever", "How Deep is Your Love", "If I Can't Have You", "Too Much Heaven" – these are great SONGS, no question. I recently saw Barry Gibb's latest tour in Chicago, and I couldn't even escape to use the bathroom. It was relentless. But there was no time for nostalgia in 1979 – the public wondered aloud: "
How long can it last?"
It didn't.
"Of all the hair that ever was, (mine) was some of the best, but it had had its day. The screaming, ga-ga, standing there chest bared - those were cliches. They were MY cliches, but it was time to put them in the drawer and close it."
A North American tour, the band's first since 1977, was scheduled to commence in October 1980. In late September, Maurice was picked up by limo to attend rehearsals at L.A's Village Studios. During the journey, "Kool Moe G" asked to stop for breakfast, where he ordered four quadruple vodkas with a ham roll. After downing his drinks in quick succession, Moe took a single bite from said ham roll and quipped to his assistant, "
breakfast
". He continued to drink heavily after arriving at the studio. Well past midnight, Maurice, who had thankfully fallen asleep after urinating on a $15,000 mixing board and picking a fight with a rubber tree, was taken to his bed at the hotel and placed on his side. At 1:45 pm the next day, Barry found Maurice buck-naked in bed, a feather duster protruding from his ass and an asphyxiated schnauzer on his pillow. And so with their final 45, "Tragedy" detailing both Moe's misadventure and (at least according to Maurice) the botched Iranian-hostage rescue, The Bee Gees passed into infamy and history. It was all over.
Sure, we can always look back at the missteps: protégé Stig and his ill-advised movie adaptation of Lou Reed's
Berlin
, Maurice's Bournemouth "
Fight Club
" scandal, Barry's incessant stalking of Bette Davis,
Robin Gibb
- but The Bee Gees place in my heart is secure. I had to keep my secret for many years, and even as my LPs re-emerged in the mid-90s to ironic thumbs-up gestures ("
Duuuude! DISCO RULES!
"), I found that The Bee Gees simply brought me joy, a tinge of nostalgia, and some tunes like "How Deep is Your Love" that could absolutely melt your heart. Yeah – they are in the canon for sure. Twice over.
"While The Bee Gees were onstage, before we were to go on, we knew it was over..."