The Belleville Three - Part 1 Cybotron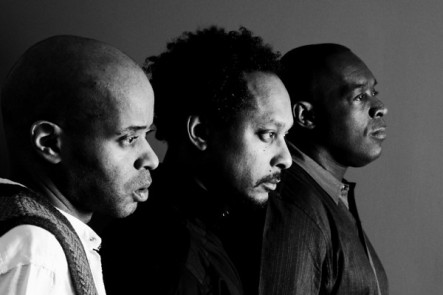 (From L to R - Juan Atkins, Derrick May, Kevin Saunderson)
Belleville is a small suburb outside of Detroit that had a "racially progressive" attitude amongst the automobile factory workforce situated there in the seventies even if it was still prejudiced in some parts from a residential perspective. An area that had an affluent yet still relatively small black middle-class, the techno music created by Kevin Saunderson, Juan Atkins and Derrick May would, to a certain extent, cross the harsh divide line of the 8 Mile, pollinated there by programmers on The Scene and Mojo. Clubs such as the Music Institute were a mixture of high school students and teenagers from less privileged backgrounds - very much a word of mouth scene. This continued until the latter half of the eighties, when continuing social decline led to burgeoning gang-related violence across the city that has been a permanent resident since.
Atkins, May and Saunderson all went to school in Belleville, Atkins being the slightly older of the trio (and revealed in a interview to be the son of Detroit's version of "American Gangster"). Their formative period came through listening to music by YMO, Kraftwerk and Parliament in their bedrooms via the Electrifyin' Mojo, rather than being experienced on the dancefloor. Atkins, having been influenced enough by Parliament to buy a synthesizer in the late 70's, was the first to start making music.
Cybotron
Juan Atkins met Vietnam vet Rick Davis aka "3070" at community college whilst studying computer science. The two of them formed Cybotron, the name derived from Atkins' love of futuristic sounding portmanteaus - being a mix of cyclotron and cyborg. Atkins was also an avid reader of futurist Alvin Toffler, reading
The Third Wave
and
Future shock
in his late teens, eventually coining the phrase "techno" after the phrase "
techno rebels
". In the midst of Detroit's collapse and abandonment, Atkins eventually inflected his music with a sense of melancholy, but for now, the Cybotron sound was a mix of Parliament and Kraftwerk - replicating the sound of New York electro. The battle for Detroit's first electronic dance record is disputed between them and the one-off of "Sharevari", but Cybotron had the staying power and relative economic success - helped by Davis' decision to press 7" 45s rather than the more DJ friendly 12"s for their first single "Alleys of Your Mind" on their own Deep Space label. A second single, "Cosmic Cars" followed shortly after.
http://www.youtube.com/watch?v=TccgyZVkonw
http://www.youtube.com/watch?v=aOBUqCIXXWY
Within a short space of time Cybotron were signed to Fantasy and had a relatively big hit with "Clear" - one of the major electro records of the era. An album, "Enter" followed - being a disparate mix of weird funk and rock ideas that showed the clear distinction between Davis and Atkins.
http://www.youtube.com/watch?v=fGqiBFqWCTU
http://www.youtube.com/watch?v=u_dgScFHHGo
Their focus and vision merged more successfully for 1984's "Techno City", which claims the first use of the phrase "techno" and also showcases that trademark sound that Atkins would make his own soon enough. This is the start of the genre in its truest form and within a year, after one more single "r-9", Atkins would leave to strike out on his own. Rick Davis would continue Cybotron on his own, eventually more new-age style material in the nineties.
http://www.youtube.com/watch?v=cZFL2Ewo-oI
http://www.youtube.com/watch?v=ZDWeIGEj96s
You can read more about Atkins and Cybotron via an interview with him on my site -
http://www.bleep43.com/bleep43/2009/10/ ... t-one.html
Next - Metroplex records and the start of Juan Atkins' solo career.